Fission
June 2, 2009
Is this how it feels to die?
This ache.
The anxiety.
Filling my throat and choking me blue.
The weight of his uncaring crushing me into a shallow grave.
The wave of silence that smothered my screams for him.

I reach out and feel nothing but the brick wall that separates me from reality. Split in to two personalities.
One to project and one to trail behind me.
A colorful lie and a sobbing shadow.

I drag myself through each day in hopes that this is a nightmare.
My lungs sink and reluctantly rise in my chest, pushing me forward.
Heavy legs thicken with each step and I clench my jaw and fists against the pain.
Sometimes it surprises me.
Sneaking up behind me and stabbing me in my already bleeding heart.
Or it starts after laughter and spreads in the silence. Covering my body in cold, grey, untouchable skin.
A sideways glance enough to shatter my veneer.

Paper smiles.
Plastic happiness.
Moving though time with stiff joints.
Distilled anger mixed and separated into tender sadness.

Limbs popping and falling out of place at his shocked expression. His eyes sharpen as if begging,
"Don't tell her what I did to you."

And her.
The other by my name.
Watching the silent exchange in innocent confusion.
Standing in the place meant for me at his side.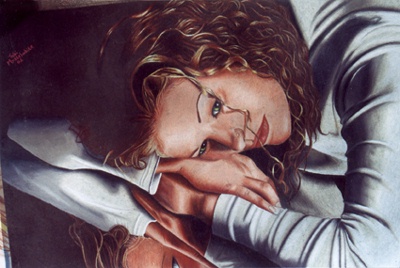 © Tabitha M., Kannapolis, NC