A for Alone
June 1, 2009
The church's mahogany doors,
Complemented by the brass handles,
Remind me of the "A" I have burned onto my heart.

The scorching metal burns my fleshy hands,
Now a puddle steaming on a stone threshold.
Wispy, wild dandelions, with white heads,
Explode into flames, feral as they.

My semi-conscious torso, weak and blistered,
Presses in the doors, mollified by the devil's tongue.

Oh God!
The pews, now black skeletons.
The Bibles, now angry ravens.
The font, now boiling with ire.
The stained glass, now charred, monochromatic.

The withered corpse, stained with blood,
Pulls punctured limbs from the oak and iron cross.
Walking to the altar, I great the grisly priest,
With the devil's eyes in his scarlet palms.

"My hours are married to shadow."
The nave's joints buckle, my mind melts.
The Doric columns, no longer fluted, snap,
Like wishbones without winners.
All descends.
All is cleansed.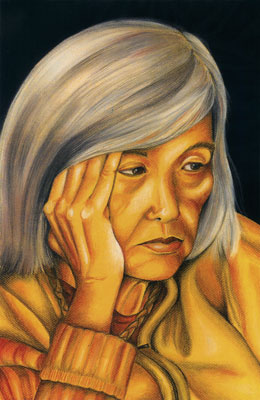 © Kaitlin C., Forest Hills, NY