My Sanctuary
May 26, 2009
We were friends
Never any teasing or rude comments
Together forever

But then came the day I found out that you're all jerks
Teasing became your game,
Of course it wasn't teasing to some random kid
Not to a nerd
Or even to each other
It was only to me.
Me, there friend
What a joke

I finally couldn't take all the spiteful comments,
I grabbed a real friend
And as we started to run to the girls bathroom,
Tears became vivid and blurred my vision,
And as I sat on the cold, hard floor,
All the rude and hateful comments,
Poured out along every line on my face.

All my friend did was hug me,
And she never let go until I stopped crying.
The tears didn't stop slowly thought,
They came to an abrupt stop,
That's when I figured something out.

I knew I has to be strong
And believe I could overcome this strange obstacle in life.
It was a surprise when I stood up and grabbed my friends arm,
I told her I was fine.
And as we walked out of the bathroom
I knew I could.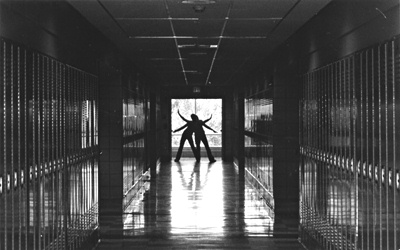 © Sheera G., Marblehead, MA