Love is one but pain is another
May 26, 2009
Love is one but Pain is





Another

No one is here to see my heart.
The color of my blood is red for the sake of how my life is.
While one hand is on my heart and one hand is to the sky I thank the lord for the life I live today.
Blood Red as Fruit Punch.
My heart is beating faster than a racing rabbit, blood flowing through my body and butterflies in my stomach from being so nervous because of the dreadful feelings I have for this person.
My mind is spinning, faster and faster.
Making me so mad I am beginning to sweat all over my collar polo.
I thanked the lord for the life I live today but I wish my life could be better than what it is.
As mad as I am I can beat on my chest like a gorilla in the wild.
Racing Rambling thoughts, Running Rapidly you'll never find.
Raging, rancid thoughts , irritability now in play.
Red the color of my blood smells like a scent no one has ever smelled.
Darkly a riddle face to face partial yet fully known- eternity a broken reflection of the truth.
My emotions must be conveyed but all the love that's lost, pain is one thing but love must cost.
"Love is one thing but pain is another, I do have feelings but we should have em for each other.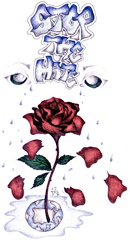 © Diana G.,Phoenix, AZ