The Sinners
May 26, 2009
The Sinners

Who are
The sinners?
Who are truly
At fault with God?
Are they the
Leaders?
Those who defy His
Word?
And make new
Life where even
He failed?
Or the followers?
The bigots.
Who hate them
Because they don't
Follow Him.
Are they the young?
Who, in their inexperience,
Disobey Him?
Or the old?
Who purposefully
Do His will
But forget about
Doing it right.
Is it the students?
Who don't want to learn
Of Him
Or His ways.
Or the teachers?
Who are tired
Of teaching Him
To those who don't
Care.
The slaves
Who crave freedom
From a shelter-giving
Master?
Or the Master
Of a despised
And frightened
Slave?
The gays
Who love, although
They do what He
Claims to be evil?
Or the married?
Who hate the others
For not being
What God intended,
Although they are
Still people.
The robber
Who steals
To feed his
Baby sister,
Because his father
Left to be a priest?
Or the priest
Who raped
The young
Of his flock?
The liars
Who protect the
People from a
Painful truth?
Or the truth-tellers
Who, in their quest for
Answers,
Leave others behind?
We may never know
Who are the true
Sinners.
And who are the true
Saints.
May we find the answer
In whatever
All mighty power
Rules us and our land.
If even one such power
Exists.
And if not,
May we look to ourselves
And find the answer.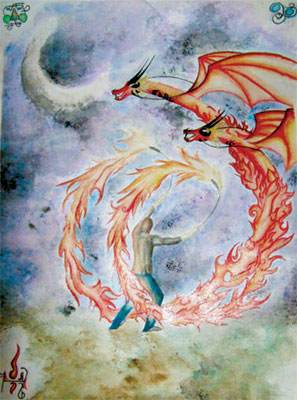 © Garrett P., Reno, NV