Swan Fajita
May 25, 2009
Swan Fajita

A swan flows lightly against air drafts,
Brushing away clouds with its feathers.
Fluidic billows of fog cocoon the swan in a spicy fajita,
The surrounding air starting to broil and as conditions
Fly past part Uno in Mary's cookbook.
Part two has a call for cinnamon and tarragon to
Flavor singular morsels to taste,
And when cooked,
Surround the brown and oily skin with
Carrots and basil fronds.

From sky to crock, crock to bowl,
And bowl to stomachs,
Assisting in all ways
Is an annotation of the swan.
Giving to poor,
Providing provisions for the hungry.
Giving inspiration to aspiring artists,
Can also snatch its' nook in a dictionary.
But most importantly.
From the inauguration of my birth,
It fills my stomach
And comforts my palate.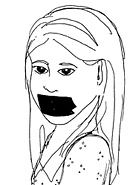 © Liza M., Vineland, NJ