Growing
MAG
i was close enough to see the veins in your eyes branch

and dip under each iris, a sort of protective shield

against everything your eyes saw when they opened

or closed. my throat was flaking into snowy chalk

in the hope of knowing where the roots of the branches were entombed

and what the tree would look like in full bloom.

my throat and i wanted to know

everything that your tongue could purge

from your gut, but most especially

the things that it couldn't; the things

that were trapped, wrapped up in your bile

and smothered there under an acidic blanket.

i'm not sure any enzyme found

in the human body could digest something so

intense, but i would lend all of mine to you if you'd like them.

in the meantime i'll water my trees for you

until they grow out enough to entwine themselves

with yours. i'm just not sure that all this salt is

much good for them. and while i wait to find out,

i'll let my arm blossom into a vine whose uppermost twigs

i can braid into a blanket with your matching models.

i know you like to keep your flowers hidden,

but the gates to my garden will never be locked to you.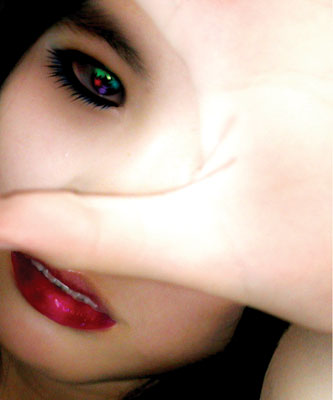 © Victoria W., Arcadia, CA