Now that summers here
May 21, 2009
Summer's here and i'd have to say
I could've waited for this day.
Two whole months without my friends
I can't wait untill summer ends.
Even though I'll be at the bottom of the totem pole
We all have to play that role.
I think about this past year
And all those I held dear.
All my friends that I'll miss
Untill i see them again when I feel fall"s chilly kiss.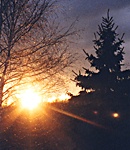 © Christy S., Germantown, NY