Another Daydream
May 21, 2009
We are walking along
having some real fun,
watching the ocean breathe,
with my number one.

We decide to sit down
and our eyes, they met-
the brilliant colors
of the sunset.

The ocean is clear,
clearer than a bottle,
the way it looks
is like a landscape model.

Pretty pale white sands,
the ocean clear and blue,
the hours are passing by,
it wouldn't be right without you.

Our love is growing,
faster than a roller coaster,
but I don't want to brag,
or be a big boaster.

Then I find out,
toward the end of the day,
that it was just my imagination,
one of those dreams during the day.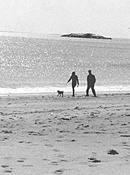 © Megan S., Marblehead, MA