If I could live A dream...
May 20, 2009
If I could live a dream,
I'd paint the world my own.
Sprinting with my brush, I'd paint it all alone.

I'd paint so many colors, and with each careful motion,
There'd be a Redwood forest and a crystal clear ocean.

I'd listen to the rustles of my tress as they'd sing,
And the birds and the ocean and all of my things.

But whenever I'd ask for all of the noise to cease,
There'd be a deafening silence, not even a breeze.

I'd push aside the trees just by raising my hand,
And I'd gaze cross' the sunset at my colorful land.

The birds, and my forest, a perfect silhouette.
A vast violet ocean meets a rosy sunset.

I'd dive into the ocean, but the water would be still.
Like breaking glass, but there's no crash, no splash, just still.

Then I'd fly, yes I'd fly, to the rosy white clouds,
Where I'd prance like they're stepping stones high above the ground.

Oh if I could live a dream,
All would be right…
But I agree to return at the end of the night,
To reluctantly face the morning light.

After all, an earth sunrise isn't half bad,
And my dream land, alone, might be frighteningly sad.

But if you'd come with me, we'd be there all day,
An oasis from this world we could forever stay.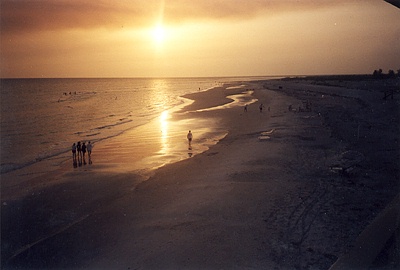 © Sara C., New Port Richey, FL