Fall Day
May 16, 2009
Leaves falling through the atmosphere in a rhythmic pattern,
Slowly they hit the ground leaving behind a touch of beauty,
Fingers strumming...
On and on for a few moments.

High pitched notes falling down freely,
The light touch of the strumming of the strings,
The strings silently singing their own individual song,

Creating a calm, relaxed environment,
The heavens are singing from above,





Can't you hear the words of the flying dove?



Repetition over and over in the flow of sound
Patterns in the sound of relaxation,
over and over,


again and again,


The mild toned notes,
Going higher, higher,
Progressing...



Progressing, until the sound is so sweet,
But at the same time almost obnoxious,

Lower now the pitch continues,
Coming to an end that it doesn't quite want to see.
Abrupt almost, -- but not quite,

Leaves swaying in the breeze to the ground,
Gently to a stationary stop.
It's like a car easing itself to the side of a road when being followed by a cop.
Then time freezes,
it freezes like a photograph taken on a quiet fall evening.

And it all ends with a dummm...dummm.

Then silence takes the night into its own hands.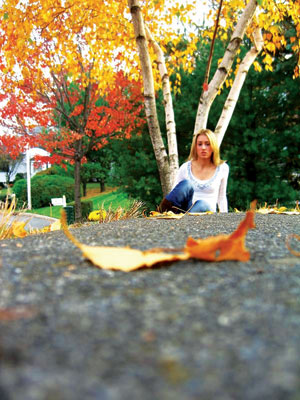 © Stephanie F., Garnerville, NY