trapped with no escape
May 14, 2009
I'm locked in thia cold cage.
I scream, I cry, I fear my own rage.
Scratching and clawing at the bars.
This cage called "life" is leaving scars.
They may not be visable but I know they are there.
I lay there wide-eyed in a pondering stare.
I ask them why I am the one.
They walk right past me making it obvious my feelings are shun.
The only people that once cared.
Leave me in the cage because they are scared.
Scared for themselves and scared for me.
Why don't they come running, can't they see?
Can they see that I'm horrified and have no way out?
Or do they think my cries for help are a whimpering pout?
They don't understand what goes on in my head.
I hope they can see that I'm almost dead.
I used to think lashing out would do the trick.
But all it does is worry them sick.
They cry, they fight, they try to help me.
But at this moment, only the cage is what i see.
Cold steel bars grasping ahold of every bit of sanity I own.
Hopefully soon my point will be shown.
Someone who is dying insede can't be locked up just to let them hide.
Hide from their fears and feel in incontrol.
So another life becomes a black hole.
Once forgotten I'll never be the same.
My cry for help is apparently lame.
Nobody hears what I have to say.
Except my mom who feels the same way.
I ahd plans and dreams of going far.
But my emotions then took charge.
They won't let me pick the lock that holds me here.
Life itself is my biggest fear.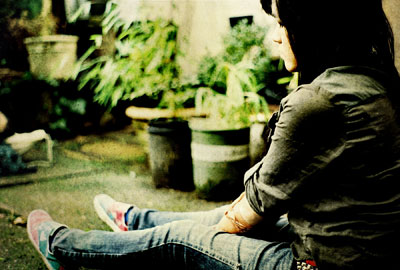 © Hailey J., Lake Oswego, OR