Love Spoken to Janie Inspired by Zora Neale Hurston's Their Eyes Were Watching God.
May 18, 2009
As spoken by Nanny

Ah' don' told you time and time again.

Love will come.

N sides' chile dats jus' foolishness.

Heah you is Mis' Killicks and worryin' bout love.

Jus wait awhile, baby.

Yo' mind will change.

As spoken by Joe Starks

Janie, I aims to be a big voice.

And I needs you ta be my wife.

You'se da lead cow; da bell cow.

Cain't be walkin round heah lookin' common.

You'se Mis' Mayor Starks now.

My own pretty lil' porcelain doll.

As spoken by Tea Cake

Janie, I loves ya fo whose you are, not wut you got.

I ain't want you ta see no commonness in me.

I don't want yo money or nuthin'; jus you.

I wants ta be able to share everything wit' you.

I ain't got much but da most I can give ya is my love.

Will ya take dat from me Janie, will you have me?

As spoken by God

Janie, I made you to be loved.

Don't feel ashamed to let yo gems shine lik da horizon.

Don't let mud or nuthin' else cover up wut I dun made.

You was always a parta nature Janie, rememba dat.

Don't faget dat pear tree and da bee; you'll find yo bee cause I made em' jus for ya.

I loves ya Janie, and dat will always be enough.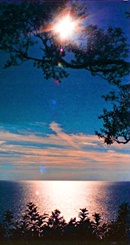 © Crystal B., Gresham, WI