Invisible
May 15, 2009
I stand alone wondering
why I've not yet been seen.
I'm invisible for the ways of my life.
Coming from the darkest of dawns,
to the longest of eons,
conquering the curse I am burdened with
will take time and heart.
I will have to be smart,
I will have to be quick on my feet
like a rapper with a beat, ya'll.
I guess I'm just as invisible as a…..
Chameleon!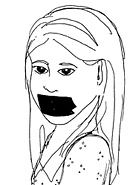 © Liza M., Vineland, NJ