Battered Knight
May 14, 2009
I don't want a knight
in shiny white armor,
on a steed as pristine
as if it just left the
stable. I don't want
Prince Charming with his
Hollywood smile, or with
his salon perfect style.
I won't be Guinevere to
his Lancelot, Aphrodite
to his Ares. Who wants
a protector fresh from
the training grounds, with
no real experience tucked
beneath his belt? Who
would wish to sit in
a high standing tower
with only the winged
animals for companionship
while the prophesied
Knight in gleaming white
dawdles on his pure white
steed? Not I. My heart
calls out fora true
knight. Not one of freshly
made armor, or a newly
painted lance. But one
in gray metal showing
signs of heavy wear.
My knight rides a
battered, mud splattered
weary beast. His sword
is chipped, his breat
plate dented. His eyes
are weary, worn, and
some may say ragged.
Though young, there will
be wisdom riding by
his side, as comfortable
as a childhood friend.
And his smile. Oh,
but what a glorious
worldly smile it will
be. A weight, a
responsibility will
ride on his shoulders
but he will bear
it with ease. No
cry of help will
go unanswered, no
glory will he seek.
Nay, unselfish motives
and an experienced heart
filled with understanding
is the heart I seek.
I would be servant to
his lordship, groupie to
his fame. No Hollywood
smile nor salon polished
style will ever have my
love. Ragged and burdened,
kind and mud splattered.
My battered, sweet knight
will he be.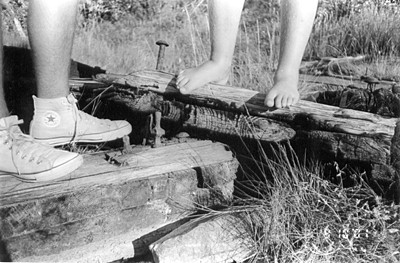 © Sarah R., Marblehead, MA