Where is this place I go?
May 12, 2009
Where is this place I go?
Reading a book, I think of a conversation I recently had with a friend.
Watching TV in the dorms, I think of doing the same back home.
On a walk outside, I imagine my best-of-friends walking beside me.
Drawing a picture, I'm quick to forget my original intention of the piece.
Standing in line for meals, I think of my favorite restaurant back home.
Listening to a lecture in English class, I think of the unruly teacher I dealt with last year.
Doing my second year algebra homework, I think of my crazy erratic algebra teacher whose class I aced last year.
Walking to my dorm room, I think of how each passing time I would pit-stop at my younger brother's room just to encourage a reaction.
Listening to music, I connect each song to my family and friends losing the lyrics into the wind.
Eating meals, I think of how failing to see the outdoors I no longer burn off each calorie I eat.
And during the few moments where I completely take a break from the life in which I'm not often fully present, I for a few small seconds...think of nothing.
When I leave the real world behind for seconds at a time, I seem to know exactly where I go.
But what this place I go is called, I may never know.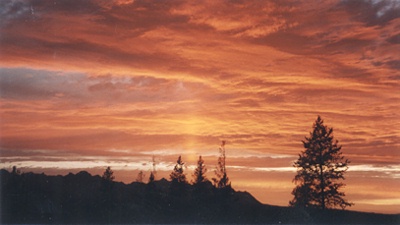 © Katy B., Challis, ID