My Fourth Girlfriend
May 12, 2009
First Girlfriend- At that point, you and I were best friends, and I was hoping for more, but we weren't ready, so I went for her, it was foolish and lasted two weeks, I didn't even like her, but you and I were still friends.

Second Girlfriend- Her and I went three times, I didn't like this one either, but the drama drew me to her like a mouse and a mousetrap. You told me I was being a jerk, I didn't listen, I almost pushed you away, but I pulled through in the end.

Third Girlfriend- This time I really liked her, we flirted at a pool party and I asked her out because my friends talked me in to it. I was so happy for those next 48 hours. Then it was done, she wanted to be friends, and I was ok. I still had you.

Fourth Girlfriend- My time had finally come, I was finally with you. But something had happened since girlfriends two and three, because things weren't the same. Our feelings were different, although the fire that once was still had a flicker of light, like a candle, so gentle and delicate. You said it was done, I was heartbroken. We made amends, we stayed friends. But it wasn't the same.

Fifth Girlfriend- She was the other girl I had always liked, your best friend and my best friend's girl. They had a gap in their love, and I tore it apart. I took her to be mine, but I felt so guilty. I couldn't stand it, so I gave her up. I was a love killer. But you were my friend.

Sixth Girlfriend- I kind of liked this one, she was a newer one, not of the norm I had been used to and spent already. But there was no spark, no chemistry. It was a mistake. And you told me you were jealous of her. You didn't say why, but I took that opportunity as my easy way out of that situation. Of course, I came to you, and you said no. You didn't so much destroy my heart and leave it to die, but you took some part of it with you, and it still beats with yours. We fought, we weren't friends anymore. You were out of my life.

Seventh Girlfriend- Started as a friend, turned into my first true lover, we spent a year together in happiness. It ended, and she killed me like no other has. I fell apart, and for months I was lost.

Science class- New seating chart, who do I see? You. Haven't spoken forever, started with hello. And you know what I saw? That candle, flickering in your eyes. Soft and delicate, it had long been burning, and its life was running out, but I thought I saw the flame flare up, just like my heart had beat harder than the last beat. I felt that old fire, but I don't think you did, or you do to this day. We spoke. The words were pointless, we already knew our friendship had rekindled. Sharing grapes, talking about life, your brother, my ex-girlfriend, even some deeper, more intimate conversations. We rebuilt our trust, and now we talk everyday, just as we always did. I sometimes wonder, will you be my girl again? You have changed, and my new friends judge you, and I care sometimes, but I know I shouldn't. For you are my friend, you have been longer, and you will be longer. Do I want you as my girlfriend? Do I want you to be a part of me forever? I feel I have no choice, you have a part of me, my heart, stolen away inside of you, beating as yours does, with a unison found only inside of us, you and me. I have found that my love life isn't determined by which girlfriend I have and when, or how many I have, but it's the ones that stay with me that matter, the ones that take me with them, off with them for the rest of their lives. So far, that one is you. If you die, I die. If you leave, I leave with you. You hurt, I feel your pain. You are sad, I share your sorrow. I am tied to you forever, this bond which holds me in endless alliance with your heart, the love is just there. I love you. I mean it. But I have a feeling this love will kill me. Too bad, I want it, I want you, I want us. Girlfriend or not, I am always yours, always here to comfort you, pop your pills, be your flirt-toy, I don't care how we are together, I just want to know you forever. My heart forever beats with yours, my 4th girlfriend.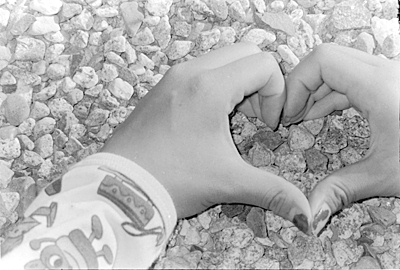 © Caitlin T., Marblehead, MA