Eternal Mystery
May 11, 2009
Death often crept curiously,
Slyly,
Into my every thought
When I was strolling along,
There He was jogging beside me,
Keeping up with the fear in my eyes
When at times I was most joyful,
There was Death, stone in hand,
Awaiting to grasp my heart
And mash it to a pulp of oozing red juice
At the age of 10, Death was here
On the night of May 25th the year 2003
Before his arrival Death had a face of cruelty,
An evil grin intact
With sharp claws extending out to brush my skin
I had mistaken Death.
He took the face of an angel, my angel.
She was beautiful, my abuelita.
That night the sky cried,
And I knew not why.
I didn't want to know.
But I knew
Form the way the wind screamed in agony
And the way the old-oaks
Hung their heads low in respect,
That there was something wrong.
I took one last gaze
At the gray clouds
As we drove away.
We arrived at the entrance of a graveyard
The walls of the home
Were peeling away
From its frame
The roof caving in
On the helpless held inside.
Its glassy windowed eyes
Sharing a deep,
Rather frightening,
Darkness of souls mourning.
I walked up the dirt mud steps,
My feet destroying all hope of rebirth.
I held onto my mother's arm,
Afraid that Death would steal her soon.
I could sense him nearby.
The house was quiet and my mother sobbing.
She held me close in her arms
And whispered with sincere sadness
Of the awful occurrence.
Death had come, unannounced,
And choked my abuelita's heart
Pounding it
Until she came to an arrest.
He stole my abuela
From my longing grasp
And I screamed.
I screamed in anger,
Loud enough for the heavens to hear me.
That night, I lay
My tear-streaked pillow
Fluffed
My soft warm sheets
Pulled off
I lay
Curled into a ball
My mind
A mess of emotions
My body numb
The fear of life struggles
Keeping me awake
Softly
Silently
I scream
Only afterward
Do I sense relief
I sit up
In a quiet stillness
Cautiously
Carefully
Quietly
I laugh
I chuckle
I giggle
I laugh
"Freedom!"
I sigh.
And fall backwards
Landing upside down
On my safe
Cushion of a bed
"Show me all you know"
I speak to an undead
Unquiet soul
I close my eyes and fall into a deep slumber.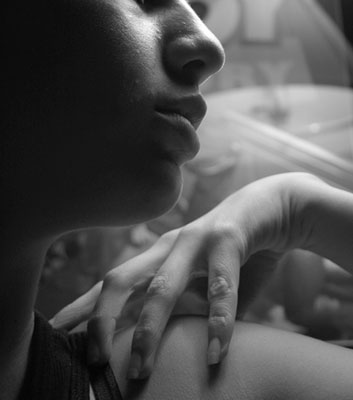 © Rebecca B., Santa Clara, CA