WWIII
May 11, 2009
the first bombshells fell with them—
they appeared out of nowhere
and flecked me incurably
with searing shards of shrapnel.
i plodded on and carry it
with me to this day,
the many onslaughts of abuse
and murky hazes of gaseous terror,
horrible images of the battle
branded with iron onto my brain,
the fumes forever leaving me paralyzed
partways
for they consumed me whole.
becoming older,
i learned to fight back—
it was cruel,
but i knew no other way—as i
jumped headlong into the fight
with razors and pills and i ran
and ran and ran breathlessly
scared with hot blood pouring out
of little cuts caused by shrapnel
of my own, the kind that brought
me artificial happiness and relief
and a bitter pang of victory. yet,
i failed to foresee the casualties,
the vicious

dark

hideous
scars peppering my once unblemished battleground,
the loss of my identity

freedom
amidst the gore.
Sinkingdown on my knees,
i admit defeat.
i lost the war.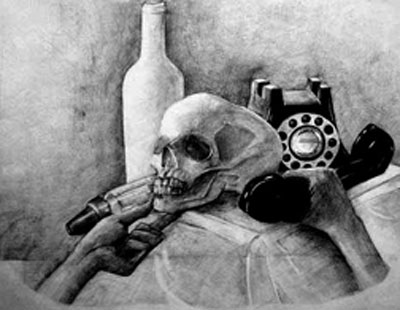 © Xiao H., Naperville, IL