The First Days of School
May 10, 2009
As summer came to an end it was time for school to start,
On the first day, an A day, I got lost going to art.
Summer ended and school was something I had to attend,
But I was lucky because I had my very very best friend.

The next day was a wonderful B day and I had math,
And when I got home I took a warm shower bath.
After school I went uptown with money to spend,
It was a lot of fun and I got be with my best friend.

A-day was always the best because I had fun in class,
In science we had a hard test on measurement and mass.
At school we always had some assemblies to attend,
During D.E.A.R. I would try to sit with my very best friend.

My teachers were all nice especially on the first day of school,
When I was in science I wished I was in a pool.
In exploratory arts we took colors to blend,
Although it was fun I wasn't with my best friend.

Well, That was really all that happened in the first school week,
THe next it rained and there was a big leak.
At the end of the week I was glad it came to an end,
Because then I would have a sleep-over with my best friend.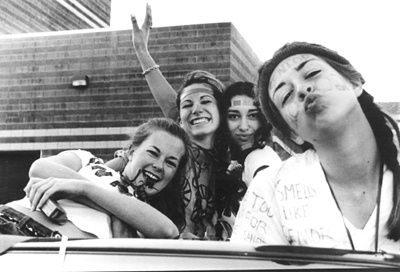 © Sara B., Marblehead, MA