Memories
April 29, 2009
I lied to my friends the other day
I told them I was over you
That I didn't need you.
I thought I was convincing.
My friends claimed to believe me,
but I can tell that they knew I wasn't okay.

I downloaded a song from iTunes on Monday.
It reminded me of you.
That's why I got it.
It talks about how this boy dumped his girlfriend rudely.
Familiar?
I thought so.

I cleaned my room not too long ago
I found a few, unused razors
So I cut myself.
Just a few slits.
I lost enough blood so that my arm went numb.

I remembered how you used to get
A little mad at me whenever I cut.
You would cuddle me in your arms,
Kiss me on the forehead
And tell me that everything would be okay.
I miss that.
I miss you.

Remember that teddy bear you won for me at the fair?
I still have it.
The other night I feel asleep with it in my arms.
No, I cried myself to sleep with it in my arms.
It took your place.

Sometimes at night, I stay up late,
'till 12 at the most,
And I'd sit at my window,
with it open.
I would be waiting for you,
Hoping that you would appear out of the darkness,
Somehow get up, onto my roof, and climb into my room.

Then I would imagine you tucking me into bed
And I would position myself where I lay my head onto your chest,
And fall asleep there.
Kinda like Edward Cullen.
Silly, I know.

Well, it's getting late.
And I have school tomorrow.
Oh, one more thing.
I still love you.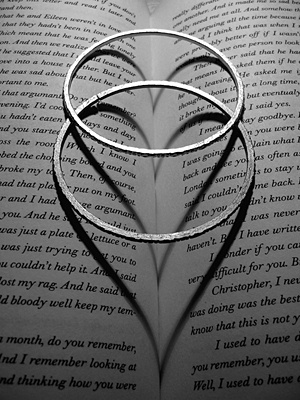 © Julia K., Old Tappan, NJ