Cupcake Zoo
April 24, 2009
I brought cupcakes to school
for my birthday today.
Chocolate with pink cherry frosting
and pastel sprinkles on top.

I'm sitting with all my friends, so many
that we push two tables together.
Smiles filled with pink frosting at the corners
shine at me over the last cupcake.

My pulse quickens, my knees shake, I feel sweat
pushing out my pores like needles.
I look up and I see the owner of the last treat.
The lion girl.

She's halfway across the cafeteria, alone.
Oh wait, not alone. With a book.
They call her the lion girl because of her big, curly hair.
It would have fit in during the 80's or in the jungle, they say.

I look at her and wonder how many days
she has been sitting there alone, without a pride.
While I sit here with all these people
smiling, laughing, oblivious.

I look at my table and see animals.
A zebra, a walrus, a monkey, a dog.
I catch a glimpse of myself in the window and see
not a birthday girl but a sloth.

Spending my time dormant and sleepy with
the rest of the zoo, while forty feet away
is a lion without a pride.
Fending for herself in not the zoo, but the wild.

I pick up my tray with my two sloth fingers
and inch my way up from our exhibit,
taking the last cupcake with me.
The other animals fall silent.

I slowly step toward the lion girl,
hearing a succinct susurrus of whispers from behind.
And then I am not a sloth, but a human.
And the lion girl's mane is actually curly hair that I think is pretty.

And my shoes squeak and my heart races
step-beat-step-beat-step-beat
and I am there. In the den, at the lonely table.
I put down my tray, and hand her the cupcake.

Do you want to come sit with us?
She has the prettiest smile
I've ever seen.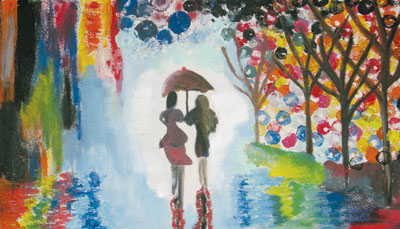 © Uzair M., Faisalabad, Pakistan