Break The Silence
April 27, 2009
A power that has the right to be free…
When we search deep, we find it.
As quiet as the humming of a gentle stream,
As loud as chaos,
This power inside of us is what we use everyday.
We feel the need to rush about,
While worrying about the smallest things,
We never seem to take in the bigger picture.

As she cries, mascara runs down her face.
"Isn't she the beauty queen?" she hears someone say.
Beauty isn't what it's cracked up to be.
The marks on her back still feel fresh,
Even though it happened weeks before.
She searches for safety, but can't seem to find it.

The Rock.
That beautiful rock.
Wet with dew, she lies across it.
She dreams of peace.
She longs for love.
True.
Real.
Love.
She buries those thoughts deep beneath the surface.
Tears poor out of her eyes and fall onto the rock.

She gets up and as she turns to walk away, she hears a sound.
The rock breaks open.
Out pours a bright white light and a mixture colors.
Purple…Yellow…Orange…Red…Black.
A Sunflower.
All her emotions mixed into one.
She stares in awe and amazement.
Just as she looks down, she sees a single petal falling from the flower.
She picks up the petal.

She has changed.

She has broken the silence.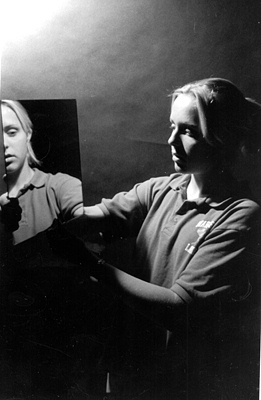 © Hadley B., Marblehead, MA