A Good Cry
April 14, 2009
My heart is heavy in my chest,
It's dragging me down to the floor,
It's so bulky and obsessed,
With depression more and more.

A reality that its been prolonging,
Is that a girl like me can't hold,
This heavy heart's belongings,
Its dark fungus and mold.

There is of course a point where,
The heart decides to break,
For there is only so much one can bear,
Before there's too much pain and ache.

Suddenly the bloody burdens of the heart are poured out,
And the eyes are burdened clouds that rain,
Down the earth of the face and the cheek's downhill route,
Melting away the tension and hurt and pain.

The sobs are simply a part of the storm's thunder, loud,
And the shaking is the rumble that it makes,
One releases until they again hold weightless clouds,
They will tremble out every sorrow's quake.

It is in a way a cleansing of the soul,
From the sufferings that are packed into the darker crevices of the heart,
The anguish and the hurt that keep one from being whole,
That breaks a person down like lava burns and deforms,that beats them up, that tears them apart.

The only solution to a clot of miscarriages of happiness,
That is the very best from which relief to pry,
Is a shedding of what one has suppressed,
It is a heartfelt, passionate, good cry.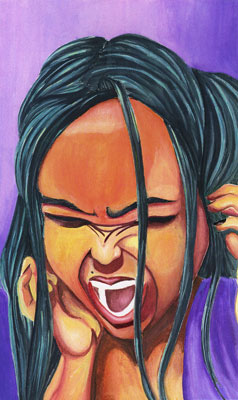 © Kriztille J., Briarwood, NY