Anger for Love
April 22, 2009
Feel it slip away
As you try to reach forward
Catch it, but it's gone
Before you can react.
Hold your ground trying to decipher
What you lost was it worth wanting
You wait there hoping for its return
But you know the answer
Yet you still grasp at it remains.
Watching life slip away
Days, weeks, months, years
Who know how long it's been
Since you felt a string of hope
But all you feel now is the pity in your heart
For being so neglectful
For being so trustful
To your own worst nightmare
Of being left alone
Alone and withdrawn
From all life.
And yet as you look out this window you feel
Anger
Raging inside you
Yet the anger is smothered by some feeling of
Resentment
That now your past all the wanting,
All the withdrawal
All the anger
Maybe its time to move on
To something worth
Living for.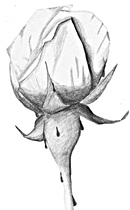 © Elaine S., Phoenix, AZ