Perfect Life
April 9, 2009
Some say a "perfect life",
Is everything,
It is all you need
Need in your life.

They say you need money,
Love,
Fame,
And popularity.

How exactly is that perfect?
If you have all of those,
I doubt your happy,
Or even satisfied.

You need friends,
Family,
Peace,
And Joy.

None of those can be taken from you,
You make them yourself,
And only retain them if you try;
That is a Perfect Life.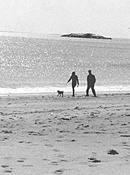 © Megan S., Marblehead, MA