I Forgot
April 16, 2009
I once could speak the language of dogs.
That my dog and I could only understand
She helped me with lots of things.
The nost inportant thing was remembering
My homework
or feeding her.

But one day I forgot the most important thing.
The language of dog.
This time she couldn't help me remember at all.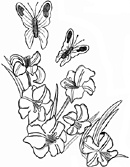 © Leah-Marie D., Peoria, AZ