My One True Love
April 11, 2009
In my notebook I pour out my innermost thoughts.
No sanctions direct me; it's my pure sanctuary.
Loving and loathing overflow it with passion.
In these pages I reside with my muse, not alone.
Others think I'm a loner, asocial. They're wrong, you see
because I'm far from it. My companion is eternal.

Never do I have fanciful dreams of a lover eternal
for sufficient I believe are myself and my thoughts.
With imagination anything at all I can see.
Pens or keyboards are the doorway to my sanctuary.
Forever some might live together, yet alone
because they never discover this undying passion.

I can hardly fathom why people deny their passion,
for all have a dream that is everlasting eternal.
To never discover fantasies is to live forever alone.
How could anyone live severed from creative thoughts?
From the physical world people need a sanctuary,
a place just for one's heart and mind no other may see.

Into the minds of others some may attempt to see,
but never can one understand the depth of another's passion
for we all carpet and paint different our personal sanctuary.
An artist is rarely alone, for blocks cannot be eternal.
Creativity lack is but an illusion of negative thoughts.
If one thing is certain in this world, I am not alone.

My one true love is my muse. I haven't been alone
since the day I first began to dream, think, and see.
An imaginative mind ignited as I formed my first thoughts.
That explosion was the beginnings of my passion.
I am certain this adoration of my inner self shall be eternal.
Never can or would I leave my chaotic sanctuary.

Inside of myself I delve to my tranquil sanctuary.
There I stay content, being what others call alone.
In here I come to think I could live this way eternal.
Underneath my skin, much clearer do I always see.
I bask in ideas flowing past, tickling my passion.
Uncaring, unproductive, I wallow in these thoughts.

I dream and live in thoughts in my private sanctuary.
Provided my passion is ignited, I am not alone.
In the future I can see that my love will be eternal.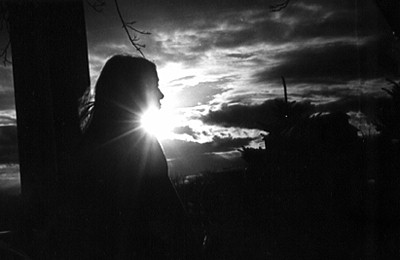 © Elizabeth G., Marblehead, MA