First Dances
April 7, 2009
Icy stares fill my beat.
Rapid movements dance around me.
Tender kisses, love, and care.
All I want is never there.

Beating slowly pulls me close,
Till the song sings a different tone,
Heart racing, music pulsing,
You dance me away.

You leave my beat standing cold,
Endlessly playing the same roles,
Thump thump, thump, thump!
Thump thump, thump, thump!

Swinging beat rolls around,
Friendly swaying me to its sound,
My beat changes very fast,
To match the tune of a friends tap.

You return, what to be heard?
Speedy fast, then slimy slow, and full of show.

Pulses through me,
Hatred glares, though pain still shows there.

Whilest being tipped, I stare,
To hear your tune,
Like a sad wailing,
You cry out without good moves.

Once dipped, I breathe again,
To swing to his happy, friendly, apparition.

He says your tune called out for me,
Beating so very delicately.

I hope,
As I'm spun around
To hear such a delicate sound.

When I hear it,
My beat slows down.
Your songs changed to a hypnotic sound,

Your tender beat reaches my hand
Caressing it slowly, I have no plan,
Till my pulse jumps and your hypnotic tune reveals,
There's no reason on earth I should be hearing you.

Not again,
Not now.

Every precious beat must be silenced,
Or I shall swing and spin with it,
Only to be mislead,
And danced aside again.

Leave me now you retched beat,
I told you to go so listen to me!

If for only one last time try to understand me beat,
Don't you get it yet?!

I can never dance to something that changes so rapidly....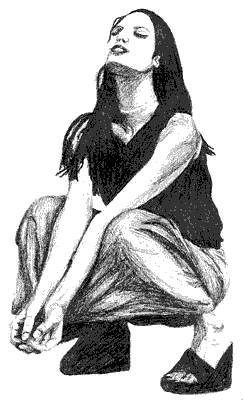 © Danielle B., Cordydon, IA