Terrell Owens Hall of Fame Inductee?
January 31, 2018
The NFL Pro Football Hall of Fame is a wonderland to the average joe. On the other hand it's a guarantee to the few gifted individuals who happen to make the league. One of those special players is former NFL wide receiver Terrell Owens who put up stellar numbers throughout his 16 season long career. But to some people T.O. doesn't quite make the cut and his stats aren't the issue.
Terrell Owens should be in the Hall of Fame because he is 2nd in all time receiving yards only falling short to the great Jerry Rice. He might not be first but coming in second when it comes to the best of the best is pretty great too. He also is 3rd in all time receiving touchdowns with 153 over his career. This seems to be a no brainer to me. T.O. was everything you could ask for in a number one receiver. He stands at 6'3, has blazing speed, and great hands. It's not like you could say his numbers were because of exceptional quarterback play because T.O. played for five different teams in the NFL and put up at least decent numbers with each. Most of his success came with the 49ers but that shouldn't discredit his credentials. Oh and by the way he was a 6 time pro-bowler and a 5 time all-pro. Give this man his golden jacket.
Now for some reason people want to look at his "attitude" to decide whether or not he gets into the Hall of Fame. That's just bogus to me. It shouldn't matter what a player does off the field or even in the locker room when it comes to this. We're looking at Terrell Owens the football player not T.O. the friend and teammate. People even went as far to call T.O. a locker room "cancer". They say that he tore teams apart and was incredibly selfish. Call it what you what, if being selfish got him all of those stats then I think wide receivers should be selfish more often. They could learn a thing or two from his "antics".
I really can't see this argument stopping T.O. from getting into the Hall. Looking at this from his teammates point of view he probably would be annoying to play with but the Hall of Fame isn't a popularity contest. The teams that T.O. was on were usually in the playoffs and/or above .500 so you can't say his play and selfishness didn't win football games. Fresh off of an season ending foot injury T.O. played in the superbowl for the eagles when they were battling against the patriots and had over 100 yards receiving. That doesn't sound like a guy who doesn't care. He went against what his doctors said and played anyway knowing that he could get re-injured but he wanted that lombardi just like all of his teammates.
In conclusion T.O. is a first ballot Hall of Famer no questions asked. This is football not a popularity contest. Teams pay players to produce, not to love one another. So my hope is that T.O. will be inducted into the Hall of Fame this year and the golden jacket that he rightfully deserves will be put upon on his shoulders.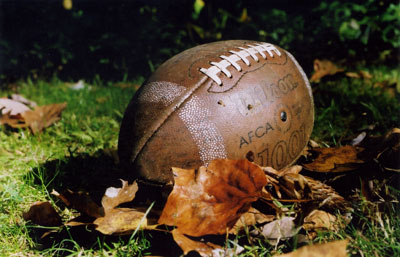 © Michael L., Bethesda, MD