Finding Freedom Through Dance
October 25, 2017
I believe in dance.
Dancing is more than a sport to me, it is my passion. Dancing is helping others while helping yourself. Dancing is the beginning of my never ending book. Some people choose yoga for relaxing, but I have choose dancing since the day I was born. Dancing is my outlet to freedom.

Dancing helped me during the moments of my life where I could not seem to go on,but when dancing, my stress and anxiety diminished. There were moments where I wanted to lay down and cry, and moments where I could not my find peace, but in those moments I danced. Although life gets hard, dancing continues to be there to bring back that peace. Dancing will always be an activity where I can express myself. Some people think there is a "correct" way to dance, but there is not. Dancing is freedom.

Although dancing has been apart of my life since I was a little girl, I realized that dancing meant the most to me when I began dancing for my church. I remember the practices just like it happened yesterday. At the end of each practice tears were rolling down my face and I was ready to call it quits, but I continued to pursue my passion. From sweaty, aggravating practices to, "Oh no! It is the day." That morning I wake up with uneasy thoughts about the outcome of tonight's dance. I was excited yet nervous because I was going to a church that I've never been to, for a women's conference that I have never participated in. Change is not a friend of mine and new places terrify me, so just thinking of the women's conference was petrifying. Once 6 p.m. arrives, bittersweet feelings about dancing controlled my body. Patiently, we wait against the wall for our cue to walk onto the platform. I could hear and feel the pounding of my heart drown out the roaring music. Walking onto the platform, one foot in front of another, constantly eyeing my spot and praying that God makes this one of the best dances yet. Three dancers start before my turn, and while patiently waiting, my heart feels like it might beat out of my chest. Then I hear it, my cue to start dancing. Gently dragging my arm in front of me, I feel all that stress and anxiety flying with my arm. Instantly, the freedom takes control of my emotions and movements. After each dance move, my heart begins opening more and more for the Lord and for the world. Admitting that you are scared can be a hard thing to do, but being on the platform performing in front of all those women was terrifying. When you take a glance around the room and see the huge smile on their face, all that fear goes away. Once making the last dance moves, tears start to trickle down my face one by one. Before I know it, I am thanking God that my mascara is waterproof. Walking off the stage, all I could hear is clapping hands, but it is so dark that I can not see a thing. Immediately, I become terrified again. "I am going to trip over these long, flowy dance pants and I know it," I think . A lady from the crowd grabs my arm mid-thought and says,"That was beautiful." We instantly wrap our arms around each other for what I assume would be a simple, and quick hug, but it ends in snotty noses, and an ocean of tears at our feet. Once letting go of each other, we begin a conversation about our personal life, realizing that we have similar testimonies. By the end of our conversation, she is smiling from ear to ear, and wiping tears from her face. Seeing her smile makes all the sweat, and aggravation worth it.

As you can see, experiences like this make life worthwhile. Dancing not only provides me freedom, but the people watching also experience the same freedom. My dance moves gave me peace and calmed my storm, but little did I know it was calming someone else's storm.

I believe in dance.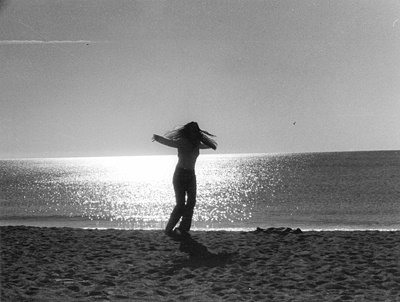 © Denise A., Marblehead, MA