Freshman Football
October 22, 2017
Freshman Football, the first sport I played in high school. Our previous year in rocket football we went 3-3, coming into this year we knew we had a good team, we just needed help to use our talent. Coach Behnke was our coach this year and we knew we were going to have a lot of help in the coaching department because upperclassmen were telling us how much he helped them. We got past the two a days and the hot sun, we were soaked in sweat everytime we got off the field. One thing about coach Behnke is that he likes his team conditioned, and that's exactly what we were. Every practice we would have long runs, including indian runs, sprints, and 100 yarders, he would make sure that if we weren't sweating, we were puking. Our team got conditioned fast, we also learned all of our plays quick, if we were not running we were learning everything we needed to know about our offense and defense. We had a good line, and good backs, that reflected on the defensive side as well. We were coming up on our first game against a class A school, Adrian. We learned their style of football and what they run, along with their defensive setup. We had plays that we knew we could run against them and work, we would pound and pound on their style of play, we would learn everything about them. Finally it was game week, going into this game as a starter on both sides I knew I had to be a standout.
Wednesday we had our pregame, a fairly easy practice, just running through special teams and some offense and defense. Gameday came pretty fast. I got through the whole day pretty easy, but now it was game time. We got out on the field and did our stretches and agilities. It was now ready for kickoff, everyone was hype on our team and from the kickoff on, we were dominating. By the third quarter it was over, they had 0 points while we were up by more than 20. The final score was 36-0, an opening win always felt good, especially to a class A school. This game pretty much reflected on our season. The following game was Parma, our momentum carried us into this game helping us beat the opposing panthers. Every practice we had we made the most of it, practicing hard and executing on everything we did help us come up with another win against coldwater, unfortunately I would not play the next game because I got ejected after trying to help my running backs up after the play and got a little physical with the other team. The next week though we knew we had a tough one, marshall had always been a good school, I would still practice but could not play. We went through this week practicing tough and becoming a solid team. As game day arrived, our team didn't know how the game would end, but we would still play our hearts out. We ended the game with a tie, although we know that our little mistakes is what held us back from winning.
This next game was the holy grail of the season, I would lose every game if it meant winning this one. We faced Harper Creek this week, and everyone knew how much we needed to win this. Gameday came faster than any other game this season, tensions would rise more and more as it got closer to gametime. Everyone was focused and determined to get this win. With that we ended up winning 12-6, and it was one of my favorite games throughout my high school career. We went on to win against northwest pretty easy, after all they were not the best school in terms of football. At this point we were 6-0 and were ready to be 7-0 until we found out that everyone on the freshmen team were going to have to move up to JV because Charlotte did not have a freshmen team. This meant that we would have to learn to play with the JV, there was some confusion along the week that we didn't get to fix. Because of that, the outcome of the game was not in our favor, although it was a really good game, we choked in the last minutes leaving the score at 30-36, it was our first loss of the season. The next week we had Lumen Christi, who we knew was a really good team, but we knew we had a good chance. We would come down from JV this week, which I think we were all happy about. Though I think we were still a little down from the loss, we knew we needed to bounce back. But something about this game at Lumen was different. It was quiet, too quiet. No announcers, not many fans, there wasn't a spark to give us the electric energy we needed. Because of this we weren't able to have a good offensive or defensive series. Lumen was used to this so they had the advantage, but it was totally different for us. We would get swept this game, lets just say a lot to a little. Not the way we wanted the last few weeks to go, but we had to move on. The last week of the season we had Olivet, a fairly good team that we did not know much about, we did know that if we got this win, we would have ended the season almost perfect. So that's what we did, we absolutely showed no mercy to Olivet, ending the game 36-0. Besides those two losses we were just short of a perfect season. My freshman football season was my favorite season of high school football, not only because of the wins but because of the teammates I had by my side.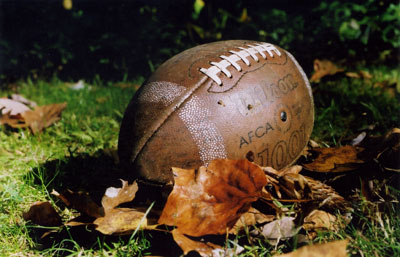 © Michael L., Bethesda, MD