Limit to Size of Track Teams?
April 4, 2017
The sheer bulk of the track team is incredible. At times needing three busses to transport athletes. Now, is having this large an amount of a team worth it? Head Track Coach Arthur Plinski sometimes jokes around and says that he'd rather have a single bus of hard working athletes than to have other people who don't show up to practice and still get to compete. Which some kids do skip practices and don't work out, i've seen them, but the point is should track teams be smaller. Hosting Beaumont, while doing our team warm up, I turned and saw the big unorganized blob of red jerseys spread all over the track. After we were done Beaumont was warming up single file on the track, which to me was weird since we just warm up at our own pace. Onto the races, we've got about eight to ten runners in the jv 1600 while Beaumont only has three. Of course in the end Beaumont placed second and third in that race, but seriously only three runners? I would at this point have so guess that Beaumont only has their best runners compete, but what does this cause?(Of course I could be wrong and this is the entire size of Beaumonts track team) Sure the runners competing would be compelled to race for the full four years, but the others who have been practicing and not competing would feel left out. The team is so vast, that it creates a sense of school spirit, where everyone can compete and improve with their teammates and cheer others on to do better. Which leads me to conclude that the team should stay as it is. On the opposing side of the argument, the school requires vast funding to keep such a large team and keeping an eye on every teammate can be a hassle so it would make sense to cut up the team a bit. Also new uniforms this year for the whole team were about two thousand dollars, even with some uniforms from the year before.

Another idea to add would be theft or someone might lose something. Although it hasn't happened recently, it could happen easily or your team of distance runners is going on their Rite-Aid run and what do you know, you left your money at home and now have to ask other people for some money when there are about ten others who also have the same fate of forgetting.

Overall having a track team is quite laborious but I would have to saying having a large team would be better than smaller ones as it will convey the message of dominance over all the over little teams as their hide under their Easy-Up as they watch in terror, your team raises the giant Easy-Up. Maybe also to get other people to join and have the feeling of friendship because their friends are also alongside them, running, throwing, jumping, or pole-vaulting.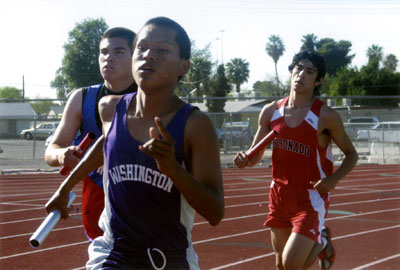 © Dan J., Phoenix, AZ