Double Bonus
December 1, 2013
When I first think of basketball I think of Michael Jordan. The jump man, air Jordan, the first guy to jump and dunk all the way from the foul line, and the guy who was sponsored by Nike. But then I think about my game. I know I can't dunk, shoot from half court, or even do half the moves he can, but I can always try right? That's never stopped me from working by myself and pushing harder than the rest. I'm in high school now and the varsity level is at a completely different pace than middle school. At first, I was really timid about trying out with all of the former varsity players because I was afraid that they would all laugh at me. When the day came I was more nervous than anything. I was afraid I wasn't even going to make it and all of my friends not on the team would not think I was as good as I used to be. But the long grueling hours of tryouts soon ended. We had to wait until Monday to find out whether we made varsity or junior varsity. I was nervous all night. What would my dad think of me if I didn't make varsity? What would my sister think? My mom even? My friends?
I went to go talk to my dad since he was my coach for almost everything. He talked to me and said that he remembered what Michael Jordan once said. "I've missed more than 9000 shots in my career. I've lost almost 300 games. 26 times, I've been trusted to take the game winning shot and missed. I've failed over and over and over again in my life. And that is why I succeed." He also told me Michael didn't make Varsity as a freshman. That surprised me because of how successful he is now. I basically took from him that, it's okay if I don't make varsity, in some way or another I will be on the team and that's when I will succeed.
It felt as if a weight had been lifted off my chest. I got everything out to my dad and it made me feel better inside knowing that our bond had come closer than it was. Then the time had finally come. I had been waiting all day and I was scared out of my mind. I was so consumed in my thoughts that I barely heard the phone ring. I had never run so fast in my life to go grab the phone. My sister had answered it first and I heard him say to her that she had made varsity. I thought to myself; oh dear, what if I don't make it now? She handed me the phone and I heard him say "I'm sorry to say this but you're going to have to be playing with your sister for the rest of the season" I have never smiled so big in my entire life. I thanked him many times and hung up the phone. My sister and I looked at each other and screamed. We hugged each other and jumped around happily as my dad came down the stairs. We had both told him we made varsity. He had tears in his eyes and said he had never been prouder in his life. He told me that all the hard work had paid off. We did the work, received a bonus, and are now playing side by side kicking all the other teams' butts.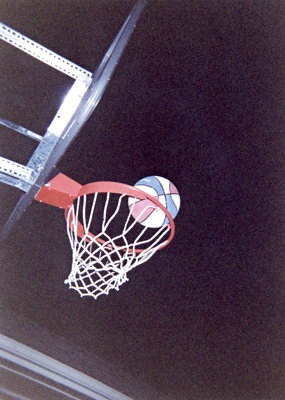 © Laura P., Highland Village, TX