Safety First
October 31, 2012
My fellow classmates… We all have something in common, sports. Sports are what we participate in for the love of the sport and the feeling we get from the sport. Sports today are nothing like what they used to be back in the 1900's. Today we have better equipment, better technology and safety rules. I believe we need more than that. Players are still getting injured in the worst possible way. Sometimes the injury can be minor, but sometimes it can be life threatening. Our equipment is supposed to protect us the best possible way, but it really doesn't protect us at all if we can still get injured. Players should have the right to bring their own equipment too instead of using the equipment given to us.


Sometimes the equipment we bring can protect us better than the equipment provided by the school or company giving the equipment. The equipment is used over and over again by players years before us. So the equipment has rusted out and has been worn out by the time we have acquired the equipment. I'm not saying we should not accept the equipment provided, I am merely saying as us players, we should have the choice of bringing our own shoulder pads or our own helmet if we feel it to be necessary. I, myself have gotten injured. I recently tore my Medial Collateral Ligament or best known as MCL. Luckily it was only a grade 2 tear, meaning I wouldn't need any necessary surgery.



Unlike me, other players have suffered more serious injuries, head injuries. Head injuries vary from concussions to brain damage and spinal cord injuries. Kids recently have died from head to head tackles, proving helmets need to be more protective for the players of football. In recent years players from all over the country have died from serious head injuries. Their cause of death is unknown but can be determined it was a serious head injury. All I'm saying is that in the future I hope to see better safety equipment, and being able to see players enjoy the game for the game and being able to see players stay on the field not having to worry about being injured.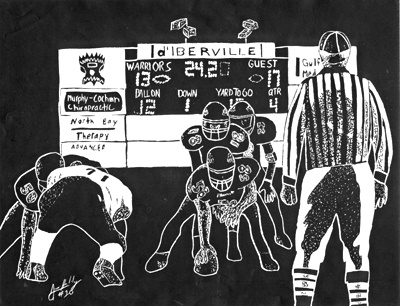 © Jason H., D'Iberville, MS