A Real Career?
April 24, 2012
March Madness. For many other Americans and I, this term describes the most thrilling, most intense four weeks of college hoops. Each year, at the beginning of March, sixty-four hopeful teams earn an opportunity to play in the National College Athletics Association (NCAA) basketball tournament. Bobby Carpenter, a linebacker for the New England Patriots professional football team, summed up America's 'March past time' when he said, "I love watching college basketball. March Madness is one of the unique things in sports where good teams' nobody's heard of's Cinderella stories come out of nowhere to win a few games. It's something the nation really embraces." Each year, people fill out brackets and make sure their television sets are programmed to watch an NCAA basketball tournament game.

This year, on April 3, 2012, the Kentucky Wildcats defeated the Kansas Jayhawks 67-59 in the national title game. About two and a half weeks later, on April 17, Kentucky's starting five, freshmen Anthony Davis, Michael Kidd-Gilchrist, and Marquis Teague, and sophomores Terrence Jones and Doron Lamb, declared to play for next season's National Basketball Association (NBA) draft. The only player who remains on the team is freshman Kyle Wiltjer. While most might argue that players and other people in general, need to make money for themselves and their family, leaving after only one year in college to play in a professional league is changing the nature of college athletics and destroying the purpose of college. Freshmen Michael Kidd-Gilchrist commented on his entering the draft: "I want to spoil my mom. I think I'm going to spoil my mom to death. That's one thing I'm looking forward to." Money is one reason players decide to leave their colleges and devote their lives to a career playing basketball. Most players want to earn money in the quickest way possible because then, they can have what they want, or provide for their families. Some took advantage of their athletic abilities to play basketball because they came from poorer families and did not have encouragement to succeed academically.

Think of Kentucky's freshman Kyle Wiltjer, the only player left on the team, besides incoming recruits. The 5 other players' leaving early shows that their college decision was based on what coach and program would allow them to play at a higher level. These players wanted a chance to make their dreams come true by earning millions playing basketball in the NBA. Those dreams are evident when they decide to leave college after only one year. To me, leaving college after one year undermines school pride and devalues dedication.

Sure, the Kentucky starting five may have left a legacy by winning a national championship for the university, but could it possibly be the wrong legacy? If these players had stayed all four years, couldn't their character be strengthened? They would learn that not every season is going to be as perfect as the last; therefore, they could understand how to face hardships. Kentucky players could have left more of a legacy had they stayed and worked to win another national championship for their school. People would value their commitment and truly see the pride that they have for the university. After all, they had the talent. Could it also be that universities are sending out the wrong message about academics?

Players receive scholarships for their athletic abilities, but when they leave college after one year, it seems that they have used their scholarship for the wrong reasons. After all, the scholarship came from the university, so it would only make sense for players to give back to the university and invest in their academic careers. They might be telling a young person that he should invest in only his natural talents. Also, they are taking scholarships away from so many hard working individuals who want to receive a good education, persevere to graduate college and begin a career to better society. There are so many people that are doctors and lawyers who spend so many hours in the library studying in order to receive the degree and become successful. Even then, these professions do not make as much money as professional athletes. Athletes do have to put in hard work, but usually they put hard work into something that comes naturally.

Athletes have put in hard work to play at a professional level, so they should take advantage of their talents, but what will happen when they suffer a serious injury or have some health problem that prevents them from playing sports? Staying at college to receive a degree would provide them with something to rely on for a career if their athletic abilities failed them. If they discipline themselves and complete four years of college, I think they will be wiser and value hard work. Committing to stay at a university all four years shows that they are well-rounded. They demonstrate passion not only for their sport, but also for their academic success.

I believe that anyone should do all that he can to better himself. I think it is unfair to be granted a scholarship for athletics only to "ditch" that opportunity to become involved in an industry such as the NBA. Money, money, money is all that these players think about. Instead, people should realize that success or money should not be handed to them. Think of all the power and maturity they would have if they had persevered through four years of college. They would realize that they can do something challenging with their lives to better society.

6.45 million people filled out a bracket this year on ESPN. This statistic shows how much people invest themselves into March Madness, or even in college athletics. By staying in college all four years instead of going to the NBA after just one year allows zealous fans alike to remember more players' and teams' legacies of pride, dedication, and enthusiasm.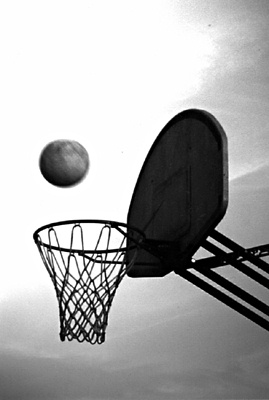 © Cassie H., Carmi, IL