The NFL should require players to wear additional protective gear
December 4, 2011
In 2011- Julio Jones (22) had a hamstring injury during a game. He has missed four games in the current season.

-In October of 2011, Kory Lichtenesteiger tore his anterior cruciate and medial collateral ligaments in his right knee. According to the Washington Post, doctors say he should expect a recovery of six to eight months, which would put him back on the field in June or July of 2012.
*Soon after the injury, Lichtenesteiger made a statement: (Washington Post)
-"I felt like this was my year to do big things, contract year and everything, so it's not great timing -- not like there's a good time for any of this to happen."
-He continued, saying "Hopefully I can get back and get healthy. I'm sure I can by next year, and I'll try to get that spot back. … I was starting to feel comfortable and I thought I had most of the parts of my game working the best that I've ever played, so that adds to another level of frustration of getting cut down so early."

And one of the most tragic: Al Lucas, was just 26 when he died from a spinal cord injury. He had bent down to make a tackle, and a blocker's leg slammed Lucas's head. He fell, and didn't move afterwards. (ESPN).

-Not only are these injuries and one death upsetting to hear, but they clearly set everyone back.

-Ray Anderson, the NFL Executive Vice President of Football Operations stated "We're not going to relinquish on player safety...When we know we can prevent lost workdays and help players stay on the field. That's to their benefit and the club's benefit."
So not only is it physically burdensome, but also financially difficult for the players, and NFL.

-Players spend a long time practising and improving, then they get hurt, so they have to sit out, and miss out in games, which can seriously affect the team playing. The injured players are substituted for mediocre players. So when the big games come around, those NFL teams do very poorly, since they're missing their star-players. If a team's best player has a serious blow, they won't be able to bring their team to victory, which essentially hurts the the entire NFL.

-Then the NFL has to find a substitute, until the player can come back. If they do come back, they usually are not in the same physical shape as they were in before, and may not play as well.

-NFL is responsible for their players, and they benefit from them, but when they are in and out of the hospital, they lose a lot more.

-With extra padding we can prevent these complicated situations from happening all together.

Requiring players to wear protective gear not only during season games will allow players to get accustomed to playing with the protection on.

-The games will become a lot safer for the players, who are constantly coming into contact with each other, once they're well protected.

The National Center for Catastrophic Sport Injury Research has reported 1,006 direct and 683 indirect fatalities resulting from participation in all organized football in the US.; the yearly number of indirect fatalities is near 9 per year.

Preventing concussions can prevent possible long-term consequences
-including depression, cognitive dysfunction, dementia and Alzheimer's disease --- that often don't
show up for years after the initial hit.

When players get head-related injuries it slows down their mental reasoning and speed of processing, which are two aspects that are very important in football. A certain amount of serious blows to the head, can seriously shorten a player's career.

An article written in the NYTimes, stated that in 2000 a "study surveyed 1,090 former N.F.L. players and found more than 60% had suffered at least one concussion in their careers and 26% had had three or more.

---The study showed that those who had had concussions reported more problems with
Memory, Concentration, Speech impediments, Headaches and other neurological problems than those who had not.

The article continued stating: "A 2007 study conducted by the University of North Carolina's Center for the Study of Retired Athletes found that of the 595 retired N.F.L. players who recalled sustaining three or more concussions on the football field, 20.2% said they had been found to have depression. That is three times the rate of players who have not sustained concussions.

But in September 2009, a study performed by the University of Michigan's Institute for Social Research. reported that Alzheimer's disease or similar memory-related diseases have been diagnosed in the league's former players vastly more often than in the national population including a rate of 19 times the normal rate for men ages 30 through 49."

Conclusion:

-So by requiring NFL players to wear protective gear during all games it will not only prevent injuries, but keep the players actually in the games, and ensure long-lasting football careers.

-You wouldn't send a kid on a bike, without a helmet. You wouldn't send soldiers into battlefield, without proper protective gear.
-So then why would you send a bunch of men to tackle each other, knowing three will have concussions, and two hospitalized?
-If you knew there was a risk in someone getting hurt, why wouldn't you give them some protective gear.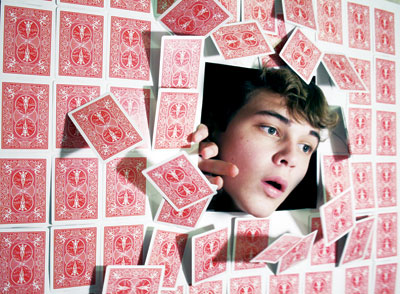 © Mike B., Harrisville, RI