Fight for the Game
October 2, 2011
Kaley spends hours every day of her summer perfecting her shots. She watched the ball nip the edges of the soccer net. She was dedicated to making the varsity team this year. However, when she reached the sign-up list, her eyes grazed the fine print. There was going to be a new, expensive fee this year. It was a fee that Kaley could not pay. She could clearly see her hard work, but it slithered down the drain. With sports fees becoming more difficult to pay, fundraisers by booster clubs and eager volunteers could curb the 'pay to play' budgeting that deprives underprivileged students of a sense of belonging and improved character.
Money has been an issue for many. The budget cuts in schools include sports fees to help their economic situation. Where does that leave struggling families with aspiring athletes, though? The increasing cost does not aid anyone's situation during this time period. The fees were to take money away from the taxpayers and charge those who actively use the programs (Fishlock 3). However, families may have a difficult time with the pricey expenses. In public schools, the costs usually range from five dollars to fifty dollars. Private schools are even more costly. They typically range from seventy dollars to a whopping three hundred dollars (Fishlock 2). Some schools will even take the prices to a higher extent. A small school in Fairfield, Ohio, charges $630 per sport per child, which is one hundred percent of the cost, from training to equipment. Officials can only reduce the fees if the child qualifies for reduced cost lunches (Miller). It seems that most schools do not care, even with the country in an almost as devastating time as the Great Depression. Throughout the nation, about forty percent of schools impose sports fees. Unfortunately, that is a growing statistic (Fishlock 2). If many do not grasp the hopes of another alternative to pay, many more families will become deprived of something amazing.

Usually, students who join a club or sport feel like they belong to something special, something important, something that defines them. With the fees, many underprivileged kids may never feel that sense of belonging. Even professionals argue that being within a sport, and throughout the team bonding, young athletes build long-lasting friendships (Miller). These friendships may be the key to avoiding exclusion from peers, which in turn could avoid a mounting depression. Also, belonging to a sport builds confidence through accomplishments on the field. Whether it is scoring a goal, attaining a touchdown, or hitting a home run, the recognition the athletes receive for their successes is much greater than those achievements off the field and in the classroom. The recognition may also lead to the building of character which to deprive a child from is something shameful.

The deficiency in character because of budget cuts and sports fees is unacceptable. In fact, many parents believe that sports fees deny students the right to a free public education (Miller). Perhaps this is due to the proven fact that students active in extracurricular activities do better in school because they learn quickly to manage their time (Fishlock 5). Also, the grade requirement to play sports keeps the young athletes maintaining nearly spotless report cards. With that said, some students rely on sports scholarships to enter college. They are empty souls, unable to plan their future, if they cannot afford the athletic costs. Fees cannot offer a compensation for these losses.
Why miss the opportunity to revel in action? Sports are neither meaningless nor unnecessary. They are very important to the character and sense of belonging, but costly fees are creating an obstacle in the path. We can help girls like Kaley. We can help her by promoting fundraisers and booster clubs for youth and high school sports, rather than fees. Be the first one to offer to sell candlesticks door to door, advertise events, and carpool. The fight for the game is not over.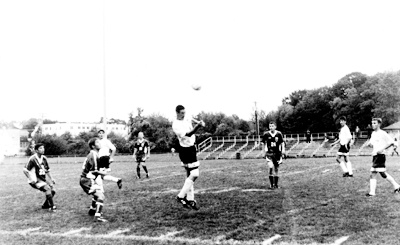 © Kim L., Milford, CT