How Should Professional Athletes be Judged?
June 6, 2011
Michael Jordan is not the best basketball player to play the game, Wayne Carey isn't the best AFL player to play the game, and Babe Ruth isn't the best baseball player to ever play the game. You might be thinking right now, "does this guy know what he is talking about?" but let me assure you I do. I think athletes should be judged not just by their performance in their particular sport but how they manage and help society off the field/court etc. These three athletes I have mentioned are all disputed at the best in the certain game they played. When I think of players I look up to it's the Magic Johnson's because they make the differences on and off the court. The point I am trying to get across is that the judging of players is corrupt. It is corrupt because we are judging players based on their "in game" performances but rather instead of judging it on how they play but also how they help society. If we would judge them on that it would encourage better behavior from many if not all of the professional athletes in the world, it would be a chain reaction for a safer and nicer professional environment where the players you look up to is not just for their individual success but of how they acted and contributed to society. I am a huge sports fan and have only one credential and the most important credential which is my love for sports, so let me explain why professional athletes should be judged on and off the court.

Magic Johnson is listed for sure in the top 20 basketball players of all time but only half the time listed in the top 10. Magic though in my opinion is my candidate for the best player of all time because not only did he demonstrate excellence in basketball with his signature, "no look passes" but because he also majorly helped off the court. Magic Johnson created many movie theatres, gyms, restaurants, and other things that gave back to society in highly populated diverse ethnic areas. He helped society because he donated large amounts to his stores but also investing a lot of his money into his non profitable Magic Johnson foundation where it helps the educational, health, and also social needs of ethnically diverse urban communities. Magic sets a major example for athletes that just because you are making millions of dollars don't mean you have to spend it all on yourself. Magic was also highly respected among his peers for great work ethic and a big heart; he is also highly respected among most people who enjoy basketball for his fair play and honest behavior. That is what I call a true superstar and professional athlete. Magic gave back what he earned from society to help society.

Athletes like Michael Vick in the NFL world are recognized as a great player. This is very interesting because he was charged with animal abuse and put into jail for 2 years. Though when he was in jail I thought to myself, "wow people think he is a great player but they don't recognize that there is more to being a great player than just on the field achievements". But when Michael came back he proved he was the great player everyone called him when he created charities to stop animal abuse and on the field demonstrated pure excellence in his unorthodox we of playing the quarter back position. Michael went as far to his previous team in Atlanta (which was where he was charged with animal abuse) and gave speeches on how it was so wrong of what he did and that he would be setting up charities supporting the wrongness of animal abuse. Michael Vick alongside Magic Johnson is a true superstar.

Dennis Rodman, if you are a basketball fan you know who Dennis Rodman is, the guy with the crazy colored hair, the guy who got into numerous fights, yup that's old Dennis. Dennis is my example of a hall of famer that should have never been. He was the opposite of a role model and demonstrated this with his countless fights which were unnecessary. Sure he was a great player, but as I said before there is more to being a player than your skill on the court. He skipped training camp and he even went as far as to hit a women. Even though he owns a charity for under privileged kids it still doesn't make up for the wrong doing he caused while playing the game of basketball.

In this day and age where kids (like me) look up to professional athletes as role models, it is only far that when critics or everyone else who judges players should critic the athletes by not just what we see them do when they play but judge them also of the actions they take to create a better day for us and a greater tomorrow for our kids.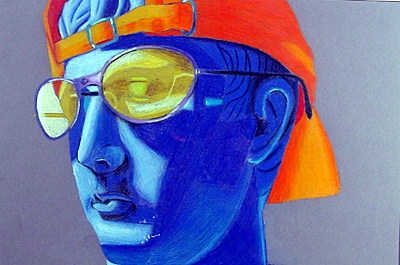 © Elizabeth C., Spartanburg, SC