The Ultimate Test of Athleticism
April 20, 2010
Am I an athlete, or does my horse do all the work?
I am definitly an athlete.
My horse clearly has a job. He does do all the work, but he only does all of his work; in no way does he do my job. My job, like that of all equestrian athletes, is to make a one thousand five hundred pound animal do his job. It is not always easy to make a ton of pure bone and muscle with a brain of its own jump over a fence taller, wider, and more imposing than his 6 foot frame. It takes a lot of leg strength to make a green horse cross over with a leg yield, making him trot sideways by "pushing" him with your leg. It is not easy to collect a high-strung thoroughbred's canter at a split seconds notice, or to make a lazy old school horse get four strides in a five stride line.

Horseback riding is an intense sport that deserves to be taken just as seriously as all other sports. In fact, riding takes just as much skill as football, soccer, basket ball, or cheerleading, so why doesn't it get as much attention?

Sure, pleasure riding on an old, bombproof horse following a guide on a slow leisurely trail is not work. I am talking about the competitive world of horseback riding. I am talking about those of us who ride a crazy horse. Those of us who show or ride intensively know how much work horseback riding is. You may not know it, because part of our job is to make it look easy.

In fact, that is what a rider is judged on in dressage. Not only does the rider have to make his horse do an advanced dance comprised of movements that are unnatural for the horse, he must make it look entirely effortless.

For instance, the posting trot, (think a squat per second on a moving animal) which is second nature to every proficient rider, is so athletic that just posting for twenty minutes burns as many calories as running four miles. Imagine that without stirrups, the metal things you put your foot in and "stand" on. It is torture. Trust me, it makes your muscles so sore, but it really helps strengthen all of your body because it works not only the usual muscles used in horseback riding such as the shoulders, back, arms, hands, abdominals, thighs, and calves, but also the hip flexors and inner thigh muscles.

And really, what muscles are used in football when not doing extra conditioning? Calves, thighs, shoulders, and arms.

You know, when you ask someone what sports he is doing, you are really asking him to list all of the "physical activit[ies] requiring skill and physical prowess …of a competitive nature" he does. Golf fulfills these requirements. Cheerleading fulfills these requirements. Gymnastics fulfills this requirement. Football fulfills these requirements. Horseback riding fulfills these requirements just as much.

Equitation, which means "horseback riding" in French, is the proper way to ride; it is the utilization of the correct posture that enables the horse to move as freely as possible while still letting the rider maintain proper control. Now doesn't that sound complicated? It is, because it does require intense skill and prowess. When you are riding in a competition, the judge not only scores your horse's movement, and the number of strides he takes in between jumps like in a hunter class, and your overall turn out; he also judges your equitation. He sees if your leg is strong enough to not swing back and forth with every stride, if you are maintaining subtle contact with the horse's mouth, if you have a strong enough core to keep you from collapsing over the jumps.

In jumpers, we have to control our horses while taking them through a course as fast as we can without making mistakes. In cross country, the horse's and rider's endurance is judged as they gallop over along course of large, dangerous obstacles. We as riders are constantly being judged on our athleticism.

And athleticism it takes. If you don't ride for a while, like a week or two, and then ride your horse, your legs will be loose, your back sore, and core weak. I try to balance my riding with working out twice a week just to increase my strength so I can train my horse, Poker Face, better.

Poker is a sensitive seven year old American Oldenburg gelding. He is upset with me when I use my leg too much, or if my leg is loose and sliding back and forth. So in order to keep him from bucking, I must be in top physical shape. Also, he also loves to run. Fast. So, I just half-halt him, because if I just pulled in the reins, he would end up going faster. As a rider, I need to be both physically and mentally prepared for whatever my horse does.

For instance, I needed to be physically and mentally prepared when I was riding Diesel, a 2200 pound draft horse who measured six feet and two inches to the shoulder. We were just warming up, cantering in a large circle, when he decided he wanted to have his dinner, which was waiting for him in the barn, down the steep hill. I wasn't prepared enough, so when he decided to turn around and run down the hill, I was dumbfounded. He turned his head, and ran towards the hill top, his lion-like mane whipping in my face. I yanked on the reins in my state of awe, yet he started going faster. My yanking angered him because the harsh bit we were using hurt his sensitive mouth. He started down the hill. I could feel his huge hoofs sliding on the wet grass. He jumped off the grass and onto the rocky dirt road which goes up the hill.

There was no stopping him now. I was scared. Not only for myself, but for him. What if he were to stumble down the steep, slippery hill? What if he landed on me? Luckily, the hill finally ended; meandering gently ahead of us was the path to the barn. We had made it down the hill alive. The end of that hill was like waking up from a nightmare; relief flooded into me. Diesel must have sensed how worried I had been, and he finally let me turn him around and walk him slowly back up the hill and into the ring. He had taught me a lesson. He had taught me to always be prepared, that horses can be unpredictable animals that cannot be commanded by a single human's brute strength. To control a horse, you have to use your strength intelligently, almost convincing the horse to want to do what you are asking him. That is true in all sports. Brute strength is not enough; one must have an effective strategy.

Since, factually, riding is just as demanding as any other sport; it deserves the respect and attention all other sports get. We, as riders, take pride in our horse, our equitation, and our accomplishments. We also take pride in our sport. Though, most of the time, riding is accepted as a sport, it does not receive the interest and attention that other, more conventional, sports such as football, basketball, baseball, soccer, or even cheerleading do. But, that isn't really fair, because horseback riding is a sport for the toughest of athletes.

Unfortunately, our friends at Sports Illustrated don't take horseback riding very seriously. Horse racing gets some mention, though rarely in the magazines. On the website, it is mentioned 129th out of the one-hundred and thirty top news articles. Though, there are only a few areas that are involved in racing, mostly the East Coast, whereas there is horse showing and intense riding everywhere in the United States, and in pretty much every other country. Horseback riding deserves to be taken more seriously than that.

Now, if you don't believe that riding is intense, go to the barn nearest you, and ask to get a lesson. You will see how intense horseback riding really is. Of course, they will go easy on you, as a beginner at the barn, but I bet that you will still have sore legs the next day. Give it a try and you will say just how hard riding is; it is not just "the art of keeping a horse between you and the ground", it is much more that that. Besides, you will have probably enjoyed your ride, because as Winston Churchill once said, "No hour of life is wasted that is spent in the saddle".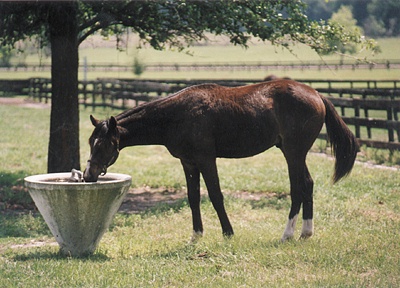 © Ashely K., New Port Richey, FL