The Importance of Sports in Children's Lives
April 30, 2019
"On your marks gentlemen" the official stated before I lined up nervously for my first race. Before any race from the fun run to my league finals I've stepped up to the line feeling different emotions but one emotion that always fills me is the sense of competition.
Unfortunately, for many kids across the country any sense of athletic competition through sporting events or even physical education is not available. Although, some may claim athletic programs are expensive and could require cuts to already low budgets to fund, physical education programs provide invaluable life-lessons, happier lifestyles, and vital aerobic exercise.
School athletics teach youth valuable life skills. Through playing sports and participating in team-centered games, students learn extremely important lessons that help them lead healthier and happier lives. Such lessons often include discipline, teamwork, and resilience which are usually focused on in team sports and physical education(Flanagan, 2017). These skills often can lead to more success in life and business and a more positive lifestyle. The important drive of competition is also often instilled which is the core basis of all work experience in life (trying to do better than your peers around you could be defined as success). Physical sports can also lead to typically positive lives.
Physical education creates a good basis for happy lifestyles. Sports at a young age, also tend to focus on positive reinforcement and good attitudes which can lead to a more pleasurable, positive life(AACAP,2018). With constant positive reinforcement a strong basis of self-confidence and esteem can be established which can often be torn down at later ages thus, establishing a strong basis at a young age is extremely important. Daily exercise and light exposure has also been shown to improve mood through the release of endorphins and dopamine. Mentally, rough house play also heavily stimulates the cerebellum, increasing contextual memory heavily, along with many other beneficial brain improvements from sports(Brown,2019). Thus, children participating in sports may have a small cognitive edge.
Team sports also instill vital social skills within children through participating in activities with other children(Cook, 2017). These skills are highly valuable in making friendships and relationships throughout life as a whole. In the absence of sports these skills often develop slower or aren't ever taught at all and must be learned through life which may lead to antisocial behaviors. Lastly, physical education keeps children's health in check.
School athletic programs promote healthy and active lifestyles. Not only do kids learn values and other skills through sports, but they also become healthier and more active. People that participate in sports at a young age were found to have longer life expectancies, improved overall, and better grades in school(Flanagan, 2017). And with obesity in children already being a major issue in today's children schools should begin to take the second step after healthier lunches, in investing more time in physical education and competitive sports. Sports may also be able to keep teenagers away from drug and alcohol use and instead keep their bodies more healthy to participate in these sports. Overall sports have many benefits.
In conclusion, physical education and athletic opportunities should be participated more by youth on all different income and cultural levels. Sports provide numerous, invaluable life skills, a basis for a happy lifestyle, and extremely important aerobic exercise. School districts should prioritizing the physical activity of today's youth by seeking out monetary support for exercise programs from private companies and sponsorships. The future generation's health depends on their physical activity and dietary choices today.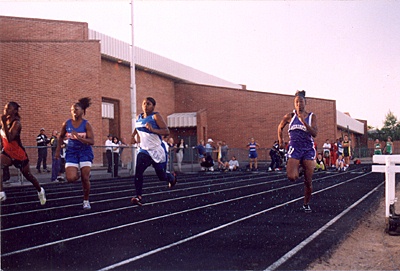 © David I., Phoenix, AZ