Why I Don't Celebrate Christmas
MAG
October 18, 2015
"What are you putting on your Christmas wishlist?" my overly enthusiastic friend asked me.
"Well, nothing. I don't actually celebrate it," I said uncomfortably.
She blinked at me. "Why not?"
"I'm not Christian …" I said, even more uncomfortably. I was really hoping that she was not going to ask what my religion was.
"Yeah, but you can still put up a tree and do the non-religious stuff, right?"
I grew up in a pretty rigid Muslim household. Currently I attend boarding school, so I am not surrounded by the cultural pressures of my home. For most of my life I did not have much chance to think for myself, and I considered religion a hereditary thing that you just were. Now that I am forming my own opinions about the world, I am currently an atheist. Maybe I won't always be, but at this point in my life, I am certainly not a Christian.
I formulate most of my ideas and beliefs from learning and through experiences at the all-girls school I attend. Of course, with 300 girls crammed into our campus, ideas circulate freely. One belief that almost everyone endorses is feminism. Everyone has a different idea of what it actually means. To some, feminism is an ideology that breeds man-hating atheists (whom I think are bigots). To me, feminism is simply the idea that everyone should have equal rights. I am a supporter of intersectional feminism, which means the inclusion of people of different abilities, races, genders, sexualities, etc.
A big aspect of feminism is recognizing cultural appropriation, which means adopting aspects of a culture that is not yours. One example is a white person having dreadlocks or cornrows, which are an icon of the black culture. Other examples include the appropriation of Native American tribal prints and henna tattoos from South Asia and the Middle East.
Turning one aspect of a culture into a trend is disrespectful because it is treating that culture like a disposable prop or costume that is in style with no deeper context or meaning. Now, you might be wondering this has to do with Christmas. Well, in basic terms, Christmas is a celebration of the birth of Jesus, the Christian savior. Most people assume that there is no such thing as appropriation of white, Christian culture, since it is the dominant group in the United States, but I think this is not true.
When I was younger I knew a girl who read the Bible between classes and in any other free time. She was bullied by peers, called a "Jesus freak," and assumed to be homophobic because she was devoted to Christianity. Of course she loved Christmas as well as the joys of tree decorating, baking cookies, and Santa, but she also recognized the religious significance of the day.
Now, these same bullies probably celebrated Christmas too – or at least the parts of Christmas that they wanted to (i.e. the fun parts). I have met people of different religions who celebrate Christmas this way, without any religious devotion. But I consider this hypocrisy. Of course, I am offended when my culture is appropriated, so I would never try to claim a part of someone else's. I grew up in a household where only Indian food was prepared – strong-smelling food that my parents would eat with their hands. My friends called our food gross and made fun of my parents for eating with their hands. Kids at school would torment me about the thickness of my eyebrows, my parents' accents, our Middle Eastern clothes, and that at times I would accidentally say words in Hindi.
In response to the bullying, I stripped myself of any connection to my cultural roots. I told my parents that I did not want to learn Hindi or visit India, I even stopped eating Indian cuisine, and started to wax my eyebrows pencil thin.
A few weeks ago, my school cafeteria served Indian food. I was with my white friend when I mispronounced the name of one of the food items.
"You said it wrong. Aren't your parents from India?" she asked, laughing.
"Yeah, I'm Indian," I said, feeling awkward.
"Hon, sorry to break it to you, but you're not Indian at all," she said jokingly.
I was very offended but tried to hide it. All I was thinking in that moment was: I ditched my roots so white people would stop judging me. I let myself be white-washed. Now, just because you like to take pictures of yourself with a henna tattoo and a bindi, and try Indian food, you're more Indian than me? Get over yourself.
But instead, I just smiled. And started crafting this article.
Back to my main point, the girl who was called a "Jesus freak" was tormented for most of her childhood. Where do people get off invalidating her or anyone else's experience of appropriation just because she is white and Christian? Who am I to expect people to stop trying to style up my culture and copy and paste the trendy parts of my roots, when some minorities fail to recognize that they are doing the same thing?
I hope that your main take away is that you should partake of your culture, be proud of your culture, YOUR culture. Respect other cultures, but do not steal their traditions. Sure, bake cookies. Put poinsettias in your house. String up holiday lights. But don't celebrate Christmas unless you are Christian. Appropriation really does go both ways.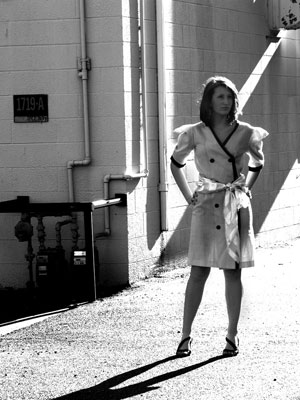 © Kaya B., Charlottesville, VA