Friendship is a Gift from God
October 3, 2013
Having a friend is a gift from God. When I am with all my friends I feel happy in my heart. I like laughing, playing and having fun together. It makes me smile inside and out.
When I see people who are lonely or sad on the playground or anywhere else. I feel sad for them. It makes me think about what Dr. Martin Luther King Jr. said that we all should be treated the same no matter what. If everyone was treated the same it would make them feel happy in their hearts and the world would be a better place for everybody. I know that some days we might not be our best, but if we always try our best to be a good friend it would make God happy.
I hope when we see students that are lonely or sad on the playground or anywhere else that we will go up to them and ask them if they would like to be friends. I think this will make God smile and be pleased with us for doing the right thing.
God teaches us through His word that we should do our best not to leave anyone out. The bible says a friend loves at all times. In 1 Corinthians 13:4-7 is says: "Love is patient, love is kind, It does not envy, it does not boast, it is not proud, it is not rude, it is not self seeking, it is not easily angered, it keeps no record of wrongs. Love does not delight in evil but rejoices with the truth. It always protects, always trust, always hopes, always perseveres." If it is important to God that we are loving and a good friend it should be important to us.
God is saying in that Bible verse to even love the people that have hurt you, or didn't want to be there for you because, they had something else they wanted to do! Even if we don't like it, we need to be caring, be a friend to even people we don't care for. Our friendships should be having God in the center of them. Friendship is a gift from God!
Friends are always there for you, through thick and thin. Friends care about you, and wants the best for you. True friends will never leave you, when you need them. But, even if you have that true friend, you need to be able to do the same for them Sticking up for them, being there for them when they are sad, happy, or even mad. Also you shouldn't feel like people are making you to be there for your friends, you should want to be there for them because you want them to be happy, and because you care about them.
God wants us to be a loving, and caring friend that just shows his light and love to everyone that we hang out with. He wants them to be able to see that yes we have God in our heart and the love that's in us should be pouring out to our friends, and even the people around us!
I think if we follow the instruction that God gives to us, we can make a change in this world, both big and small!! Our goal should be to try to do this daily, to show his love, caring, kindness to everyone, even the people that may not be our favorite. God has called us to show love everyone!!
We are all special, God has made us all, and loves us deeply!! We shouldn't make excuses about not wanting to become their friend because they don't hang out with the popular group, they don't play my sport, they are as girly girl as me, and make they guess that they are just weird because of it. No, it doesn't matter what is on the outside, it matters what is on the inside of a person! Jesus didn't let looks or actions to stop him from spending time with people, caring for people or even healing people. If Jesus can love us all, and go through dying on that cross, and still loving us. Why can't we just care and love people now? The answer is that we should, love our friends, our neighbors, everyone! It doesn't matter what they look like, or how they act because, we are all beautifully made!

We are all special in God's heart and He will always love us know matter what. We all love having a friend so let's be a friend to someone today.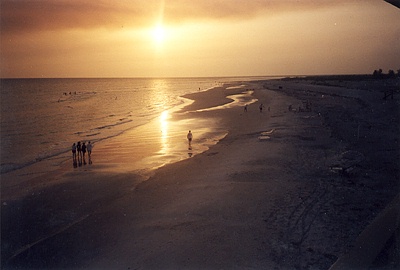 © Sara C., New Port Richey, FL