Christianity
December 17, 2012
For the past four years, I have attended a church youth camp in Colorado. I love camp and the activities we do while we are there. I even love the long and tiresome road trip to youth camp, when I have to put up with a 14 passenger van full of bored kids. But this year has been my favorite so far because I experienced God in a way I never have before. It's like I've never known how much I have been missing because the experiences I had at camp this year have changed my life, and can't even begin to be compared to my other years as a camp attendee.

This year, camp has shown me that I have been a lukewarm follower of Christ, and how much I have missed out on by living my life the way I want to, not the way God wants me to. I realized how selfishly we as humans live our lives every single day, and don't even think about what we are doing to affect our future. I also learned that even though I am a "good girl", that really means nothing in the grand scheme of things: the way God sees it. This little breakthrough, or revelation, or epiphany has changed me.
In the dictionary, Christianity is defined as "pertaining to or following the works of Jesus Christ". Many people in our society will call themselves Christians, because they think they are a good person, because they go to church, or simply "just because". However, Christianity is a way of life-it's a relationship, not a religion. This is pretty much how I have lived: I go to church, I sing the songs, I look like a nice young woman who is living a nice Christian life. But on the inside, I would never listen to the sermons, or think about the songs' meanings. Heck, I was even a worship leader at a different church which shows me that the act I was putting on was working. Putting on a facade is easy, but trying to change your inside feelings to match what you're showing on the outside is hard. Have you ever felt dissatisfied? Have you ever wanted to feel loved when you've done wrong, maybe even an unforgivable wrong, and you know that what you've done will change how people perceive you? This is how so many people in our world feel, including me. Unwanted, unloved, unfulfilled, hollow, alone. What we don't realize is that we can get all those things, and so much more, when we commit to love Jesus Christ with all we have, and give back to Him, like He gives to us.
People will see a televangelist on TV, hear a sermon on the radio, get a tract while walking down a city street, or just maybe go to a week-long church camp in Colorado and realize what they're missing. When they have this experience, they feel extraordinarily changed and redeemed. This is all fine and dandy, until you get discouraged with your life, or you feel like God isn't hearing you. After you get a little discouraged, maybe you feel like skipping your quiet time with God one day, or going fishing instead of going to church. Eventually, your mindset is that you can pretty much do anything you want, besides something as drastic as killing someone, of course. As long as you stay a generally good person, God will still find favor with you, right? Wrong!
If we want anything in this life, we have to work towards it-whether it's grades, being on a diet, or pursuing a relationship with someone. For example, when you meet the love of your life and fall madly in love, you have the intense desire to know everything about them, from the dreams they have, to what songs they sing when they're alone in the car. Just as we want to know everything about them, we want to open ourselves up to be known as well. Being in a relationship with Christ is exactly the same. We have to work towards our goal of being with Him. We must put effort forth, and not expect Him to do all the work. Reading His word and listening to His voice is how we can pursue Christ, just as we want Him to pursue us. People in our current society are so used to having everything handed to them that they don't know how to make strides towards something they want.
When I define Christianity, it's not just "pertaining" to Jesus Christ. It is following him with everything I am, and becoming a light that shines in the darkness for Him. It's keeping my attitude up, even when it looks like I can't keep trudging along through the roads of life. It's staying on track, being on the same level with my parents, and doing what's right, even when no one is looking. It's spending time with Him, just like I spend time with my favorite people. For me, Christianity is being myself, not trying to look like a model on the cover of a tabloid. It's saving my body, not flaunting it. It's being honorable. Honest. Trustworthy. Classy. Modest. Earnest. Conscientious. Genuine. Reputable. Virtuous. Christianity defines who I am, who I want to be, and who I see myself as. Christianity is living for Christ, not living for me.
Youth camp is my favorite week out of the year, especially because I have found out who I am, and how I need to live. I plan on being a counselor after I turn 19, if that is what God wants for me to do. I know that I haven't had some big sob story about how I was a terrible sinner and then I saw the light and came to Jesus but I do know that there are people out there just like me, who need to know that Christ can change them and heal them. I want to show people what they are missing. I want to tell people how we live and what it looks like, compared to what God wants us to live like. I want to live, love, and learn to be like Christ.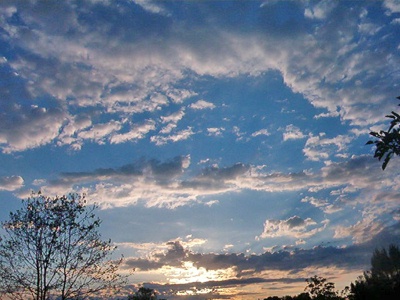 © Kaitlin M., Vincent, OH