In God we ALL trust?
December 5, 2011
Five days a week, early each morning, millions of students in a nation known for its religious freedom are expected to stand and acknowledge the existence of a deity.

What I'm talking about is our countries "one nation, under God," segment of our national pledge of allegiance. Saying the pledge of allegiance each morning before classes is a part of most elementary, middle and high schools in America. The problem is, this is an unconstitutional endorsement of religion. That said, there are three primary issues I have with "in God we trust" remaining in our pledge.

President Eisenhower appealed to have "under god" included in the national pledge in 1954, stating "In this way we are reaffirming the transcendence of religious faith in America's heritage and future; in this way we shall constantly strengthen those spiritual weapons which forever will be our country's most powerful resource in peace and war."

Eisenhower had America's Christian roots in mind, which leads me to address my first issue. By 2008, 76% of the nation's citizens described themselves as Christian (and 88% described as adhering to some form of religion.) While this is clearly a majority, a reference to Christianity still leaves out 24% of the population. Though this is a smaller percentage, within it are millions of people. Therefore, our pledge, which is a defining element of our nation, fails to define a massive portion of the population, and this alone should be reason to remove the "under God."

However, the reasoning doesn't end there. There is something to be said about the very concept of having the acknowledgment of God in our national pledge; it sends the incorrect message that one must acknowledge God's existence to formally pledge loyalty to America. This, of course, is untrue. My second issue follows this same track of logic. Every school day each child is expected to recite or respect the pledge of allegiance and its reference to God. In fact, Eisenhower boasted, "From this day forward, the millions of our school children will daily proclaim in every city and town, every village and rural schoolhouse, the dedication of our Nation and our people to the Almighty." Children, of course, are highly impressionable, so when did it become constitutional to automatically expose our children to religious faith and belief in the "almighty?"

Though I hold the deepest respect and understanding for religion, I can argue with certainty that "under God" is heedlessly strengthening religious values in our country by impressing upon each child that there is a God and we are a nation beneath it.

My final issue is that the "under God" reference is blatantly unconstitutional, an issue that has already been brought up and determined by federal appeals courts. It is in clear violation of the first amendment, which states "Congress shall make no law respecting an establishment of religion, or prohibiting the free exercise thereof…" yet the pledge explicitly and hypocritically respects an established religion.

It is perhaps most commonly argued that removing "under God' is disrespectful to America's heritage. It is true that the founding fathers of the United States of America described themselves as Christians, and it is true that the nation has always been predominantly Christian. We can credit much of the development of America's values to religion; it has come to define us in many ways. But also rooted more than 200 years deep in our history is the First Amendment.

Personally, I look forward to the day where I don't have to take my hand off my heart for that brief moment of "under God" reference during the pledge at my school, and I hope Congress comes to an appropriate ruling about this sooner than later.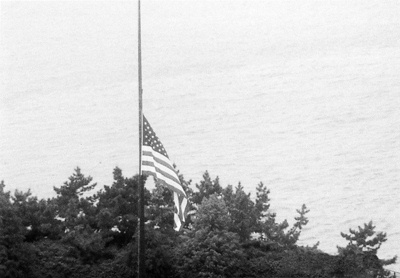 © Jessica E., Pelham, AL