Too Late to Pray
July 29, 2011
As I was reading comments on an article about the pro-life movement today, I noticed that someone was talking about prayer in a strange way.

The article was about how a pro-life group was holding a funeral for an aborted child. I loved the article. What I found strange, though, was that a person commented about praying for the deceased child.

Now, I don't know about the rest of you out there, but I think that praying for someone who's dead sounds a bit odd. Why? In the Bible, there aren't any verses that support a chance to be converted or a chance to lessen punishment (i.e., Purgatory). In Hebrews 9:27-28, it says, "Just as people are destined to die once, and after that to face judgment, so Christ was sacrificed once to take away the sins of many; and he will appear a second time, not to bear sin, but to bring salvation to those who are waiting for him." These verses do not support praying for the dead. Instead, they say that people on earth die and then face judgement directly after. There is no Purgatory, no time to minister to souls who are still lost: the Bible makes it clear that our choices on Earth affect where we go and that's it.

So why pray for a deceased child? It might sound like a nice idea, but you have to have a very specific view of the afterlife to support that. Praying for the dead implies either:

---There is a chance after this life to convert people

---There is a way to lessen a dead soul's punishment by interceding for them

The ideas sound nice, don't they? They might, but they cannot be supported Biblically. Here are reasons why.

---What about converting people after they've died? No chance. Look back to Hebrews, which I cited above. "people are destined to die once, and after that to face judgment..." There is no waiting period between death and judgement; no second chances. According to this passage of Scripture, we make our decisions on Earth and face the consequences (or rewards) directly after death.

---Can we lessen a soul's punishment by praying for them? There are two questions to ask here: First, where in the Bible does it say that believers will be punished after death for their sins, and second, why would they be punished if Christ took all the punishment on himself already?

To answer my first question, look once again to that section of Hebrews: "people are destined to die once, and after that to face judgment..." Die once and then face... Punishment? Torture? No, neither: Judgement. This verse in Hebrews directly states that there is no waiting period between death and judgement. After judgement, heaven or hell awaits.

Alright, that answers my first question. The next one, though, is arguably more important. I am speaking mainly about the idea of Purgatory when I ask why a believer would need to be punished after death.

Let me take you on a short Gospel trip: God created us to be with him, but we rebelled against him (AKA we sinned) and that rebellion demanded justice. Our sins couldn't be repaid or made better by human works/suffering/good deeds/feeling sorry. So, God had to send his son, Jesus, to take on all the punishment that we deserved, and he died on the cross, killed all that sin, and rose again. Therefore, if we accept Christ before we die and stand before God, Jesus tells God that we're with him, and we get to go to heaven.

Now, based on the fact that Jesus died for ALL of our sin (past, present, and future), what is the purpose of praying for those who are already dead? The idea of us being able to pay off some of our own debt in sin by suffering denies that Jesus died for all sins. It's like saying that Jesus died for all sins except for gossiping with your buddies or something.

If we need to pray for those who are already dead because they still have sins to pay off, it makes one ask just how sufficient Jesus was. Does Jesus' sacrifice cover those who were addicted to porn? Who took advantage of others? Who stole? Who killed? It is imperative to ask if Jesus' blood was enough to cover every sin, because further punishment implies that we have to take care of our sins on our own. The Bible clearly says that we cannot remove our own sins, anyway.

Was Jesus' sacrifice enough for all sin? If you believe the answer is yes, then it is logical to conclude that there is no Purgatory for believers because ALL of our sins are already spoken for and no further punishment is required of us. The Hebrews excerpt says, "so Christ was sacrificed once to take away the sins of many..." If you believe that the answer is no, Jesus wasn't powerful enough to get rid of all sin, then all I can say is that the Bible says otherwise.

The article I mentioned above (that had the comment about praying for the aborted child) had a ray of sunshine for me. One person said they'd pray for the dead child; another person commented and said to pray for the child's parents, instead. I found that very encouraging.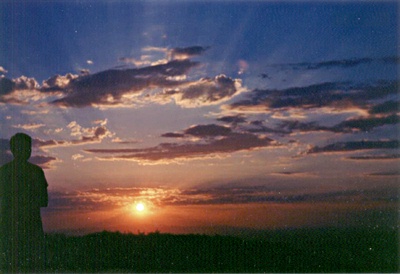 © Jovee B., Dededo, Guam