Teaching and Promoting Christianity in Schools and Excluding Evolution
April 8, 2011
Evolution... A feud between evolutionists and creationists that spawned around one and a half centuries ago. Evolution is the idea that all living organisms have descended from one common ancestor. The idea of evolution was made famous by Charles Darwin, and is still a staple in the science curriculum in the schools of today. But something is quite corrupt about the idea of evolution, and the facts that are presented with it. Evolution is not a science, rather a religion. A such well protected religion, that certain school officials have gone to the extent of firing science teachers that have even questioned the idea of evolution, for fear of young, immature students realizing that what they have been taught all along, is dead wrong. Scientists disregard findings that go against the theory of evolution, and if they were to publish those findings in major science magazines, they would be out of a job in the science field forever. The religion of evolution is so corrupt, that it should never be taught in school without the other side being presented as well. In this paper, I will state why teachers should be able to promote Christianity, why it should be out of the science curriculum, and how the earth is not 4.6 billion years old, but much rather 6,000.

People believe in a thing called 'Separation of Church and State'. This basically says that the organized church and nation state need to stay separate from each other. So teachers and school administrators are not allowed to promote any certain religion, yet they can teach them. On top of that, the President of the US can not set up an organized religion, and pastors and ministers can not promote any certain candidate for the US Presidency. But the thing about this is that Constitution of the US says nothing about this separation. The words were only spoken in a letter to Congress by Thomas Jefferson, but never confirmed as an amendment. So why this somewhat 'unspoken' agreement amongst the nation? There is no such thing as Separation of Church and State, so why is it so commonly repeated whenever the subject of religion is brought up in school? This is yet another attempt by the evolutionists to control and monitor what is taught in the science curriculum.

What is commonly believed is that the teachers are able to teach Christianity, yet not promote it in any way, but they also have to teach evolution as well. But all the teachers seem to promote evolution, and not even think about how unfair this double standard seems to be.

Now back onto the subject of evolution. This subject should not even be allowed to even be mentioned in school. To even think about how we all are descendants of one common ancestor is absurd! Genetic mutations of that degree would make every race on this planet extinct. Next time I find a fossil of a fish, I'll make sure I'll say hi to my grandfather...

Other crap that scientists want us to believe exist: carbon dating. The bible tells us that the universe is approximately 6,000 years old. One way that scientists try to disprove this is by carbon dating, and trying to prove that certain fossils are millions of years old. Carbon dating is measuring the amount of Carbon-14 in a fossil, to find out when it lived. How much Carbon-14 it has lost determines when it once lived. But there is one MAJOR problem with this. You have to know how much Carbon-14 was coming into the atmosphere at the time in order to know how much Carbon-14 the organism had lost. There is no initial starting amount of carbon that can be determined. After millions of years, the Carbon-14 would have already been depleted, so why after a supposed million years is there still Carbon-14 in fossils?? Maybe the earth is only 6,000 years old... Just a suggestion??

Here's another little fun fact for everyone... A star explodes approximately every 30 years... In the whole night sky, there are only 300 supernovae rings. A supernova is the remnants of an exploded star. Why are there only 300 supernovae rings if the universe is 4.6 billion years old. There should be at least 153 million supernovae rings in the night sky if the earth is that old. If there are only 300 rings, this should prove that the earth as at least less then 9,000 years old. Right?? Well, it does, but scientists are dead-set on finding a reason for this, but sad to say, they never will.

Another trick that scientists want us to believe is the formation Grand Canyon... Such a magnificent beauty... But how was it formed?? By the Colorado River eroding it for billions of years, of course. WRONG! It is literally impossible that the Colorado River formed the Grand Canyon? Why you ask? The highest point of the Grand Canyon is somewhere in the middle... Higher than where the river enters the canyon. How can water flow up stream, against gravity? That's right, it can't. The canyon was formed in a matter of months, about 4,400 years ago, in a gigantic worldwide flood. That's how.

But how do these last few paragraphs tie into evolution?? Well... Scientists use stars, carbon dating, and other such facts attempt to prove evolution through a time scale... They want people to believe that it took billions of years to get to where we are now. But in reality it only took a matter of a 6,000 years. Scientists will go to any extent to prove to the world that evolution is taking place... But to no avail. All it takes is s a few facts to disprove the theory of evolution.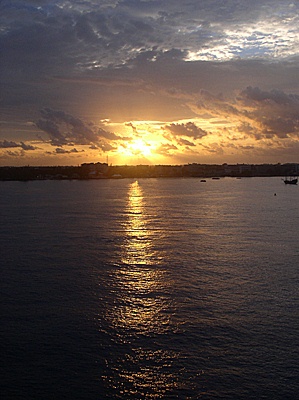 © Rebecca Y., Los Angeles, CA