My God
May 23, 2010
Ever since I was born, my parents had been taking me to church. As I got older, the every week schedule of walking to the same church turned into an every other week, driving to church obligation, to a maybe once a month. My two younger sisters never thought anything other than what the church teachers taught them. I, on the other hand, had too many questions and doubts.

My church isn't very strict, a simple, large Methodist church where I go maybe once a month now. I have two close friends there, and I enjoy seeing them, but there's something that I really don't like there-- the teacher. Brian. Every week he had another ridiculous opinion that he turned into a fact. "90 percent of people are going to hell," he said once.

For so many months, I was so confused by this simple, ignorant statement. My religious view were twisted and turned enough by him, and then my father died. This brought a whole new level to my thinking about this subject, and I knew that my father was one of those people who never did anything wrong, who was kind and wise and caring and forgiving. In my mind, he was God, but when he died, I had no idea anymore. I tried to understand what he had been trying to teach me since I was a baby, but I couldn't remember. Twelve was such a hard age to understand, especially when all of your friends aren't going through the same things and thoughts. I had no one to tell.


Almost a year after the death, after several doubts and hatreds toward my religion and prayers to help, I met one girl who I think may have changed my life. We were on a feild trip, a long bus ride, where everyone else was obsorbedin their own thing and it was just me and her starting a conversation. We had been hanging out all day, but we weren't close friends.

"Do you go to church?" she asked me. I said yes, sometimes.

"What do you think?" she asked me. This was surprising, but a part of me wanted so badly to know myself.


"I don't know," I said truthfully. She told me that she went to church every week, and took out of it what she wanted to. She told me that everything in the bible isn't meant to be taken literally, but hypothetically, and that you can believe what you want to believe. Two stories of miracles and her points of view later, I felt light as an angel. Some part in my chest that was curious and wondering and aching with a certain belief, was lifted as I understood truly what my father meant, what he had been telling me my whole life.


Now I understand that, no, 90 percent of people will not go to hell, because my God, the God I believe in would never send his loved ones to a suffering place. Now I understand that to get to heaven, you have to be a good person, and not meaning you are perfect and always nice to everyone you meet, but as a whole, you aren't evil, which nobody is. Now I know what I believe, and I know where my father is. My doubts were solved in a short, half hour talk with someone completely unexpected because I opened up and heard what she had to say.
Brian may have confused me, and made me question, but I had good questions that he couldn't answer. My mom told me that the questions I had were a lot like the ones my dad lived to find the answer to. One person, though, answered mine without even knowing it. I don't know if I will ever be able to thank her to her face, but I know what she did.

Thank you, for making me understand now. I won't forget what I believe again. As my dad used to say, "It's all about the love thing." I understand now.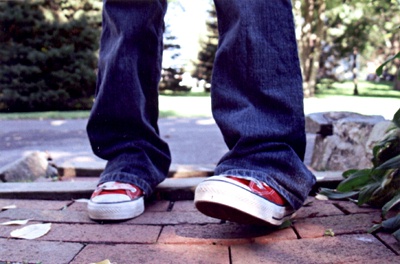 © Sara M., Milford, CT