Adolescence: It Is Hard Not to Care About What Others Think
April 28, 2018
"Life is too short to waste time waiting for other people's approval on how you live it," -Steve Maraboli

Just like many young friendships, my best friend and I were inseparable. We climbed trees, had tea parties, and played princesses. Middle school soon arrived and we were ecstatic. There were so many new faces and opportunities, and with that, my best friend began to gravitate towards a certain group of girls. She gradually began to mimic the girls' actions and mannerisms. Soon, her once messy hair was turned stick straight, and her freckles were covered in a thick layer of makeup. On account of her gaining the approval of her "new friends", she had forgotten herself, and eventually me.

Just like my friend, according to doctor siegel and his opinions on adolescence, many teenagers fall prey to making questionable decisions in order to gain approval by a group. Teenagers will mimic the actions of others to gain acceptance or a sense of belonging (Siegel).

Furthermore, due to the fact that so many modern teenagers struggle with obtaining a sense of security in themselves, they look to others for justification. It feels good to feel accepted, but many adolescents spend so much time trying to be someone they are not to feel that sense of belonging, that they end up forgetting themselves. People shield themselves behind makeup and cool clothes, and spend their whole lives looking behind their shoulders all because they want someone to be watching and admiring.

Though it is ok to want yourself to be portrayed as a overall good person, the only opinion that truly matters is your own. Caring too much about what other people think just takes away from the things that really matter; like your friends and your family. In truth, no one actually cares about what you may look like or what kind of clothes you wear.

Even I am no stranger to worrying about what other people think. I find myself looking in the mirror along with other girls, scrutinizing every little blemish and mark; making sure every piece of hair is in the right place.

Even though it can be hard to learn not to worry about what other people think, it is not impossible. Try focussing on things that make you happy like your hobbies or the people who are close to you. My final advice to you is, next time you find yourself looking behind your shoulder to see who is watching, stop and think about what is truly important in your life, and how small little things that might seem like a huge deal to you, do not really matter.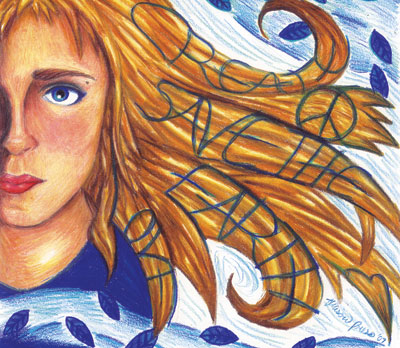 © Allison P., Chapel Hill, NC