We Are Old Enough
April 25, 2018
Everyone reading this at some point in their life someone told them that it's not okay to do something, whether it's an adult or the law. I'm here to say not everything in life needs adult supervision like buying thing without a parent or seeing the doctor or even doing some events.

What I meant by saying buying things I mean like buying the little things. For example I am a high school student and I get a lot of projects involving building, and it gets me mad when I go to the store and when it's time to check out I get told "you can't buy that" or "can I see ID". The things I go to buy is nothing bad it's not no tobacco alcohol it's things that I need like super glue or sharpies. Also I have a friend that was trying to buy spray paint for a project he had told me that he couldn't buy it because he wasn't 18. I believe that when someone drives all the way to the store and as soon as the go to check out they tell them no. So after that you have to go all the way back get a parent to get it for you and it's all just a waste of time and money because gas is not cheap.

Another one of my issues is seeing the doctor or anytype of medical help. My example would be when I use to go to physical therapy I would do all my treatment and things but as soon as I got time to conference with the doctor. I would have to all the gay to the waiting room and get my mom because I wasn't allowed to go alone. The thing is why does she have to be there like we're just talking about my well being not my mother's. Another story would be my friend situation where he was going to the dentist. He had said that his mom and the dentist had agreed that he could just show up and he was going to be treated. That wasn't the case as soon as he go there they asked for his parent he had explained what his mom had told him but even though know they know the story they still didn't let him see his dentist.

A while back the same friend went to a go karting place and sing up and everything to go on the track and start racing, but as soon as they were going to get in the kart they asked for there age and said no. I had told my teacher the story and she thought it was weird because she said she remember doing the the same thing at out age. Also how come we are allowed to get our drivers licence at the age of 16 and a lot of people die on the road. Some even say that's it's the most dangerous place reason being because of all the accident and death that happen. In new Jersey state so far there has only been 140 car accidents and New Jersey is one of the smaller states too.

That's why I feel like we should be able to do all this thing. Because to be honest age is just a measurement in my age it's whether people mature enough. Everyone is different. Like we can get a job at 16 people say when you get a real job you have experienced the real world but we still can't buy sharpies or see the doctor or do fun and safe activities. Also If I where to get arrested at the age of 17 im not going to juvie I'm set to go to actually adult jail for that reason something don't make sense.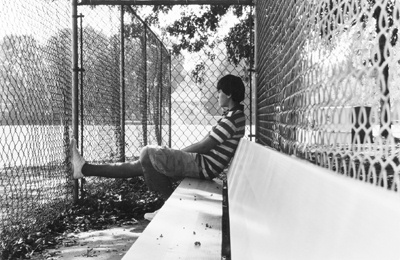 © Kyle W., Pompton Plains, NJ